During my time as the Pratt Fellow in the Brooklyn Museum Archives I worked on processing and completing a finding aid for one of the most utilized collections that is currently also the most challenging to access. This collection comprises the bulk of the institution's visual representation, the Department of Photography records [PHO]. As part of processing the collection, I had to extract information about the collection from Microsoft Access and migrate it to ArchivesSpace. My poster presentation will showcase some of my experiences while completing this project.
Working with Prof. Craig MacDonald, seven SILS students designed and conducted a user experience evaluation of the Brooklyn Visual Heritage website, presenting actionable suggestions to improve the site's usability to the Project CHART team in April.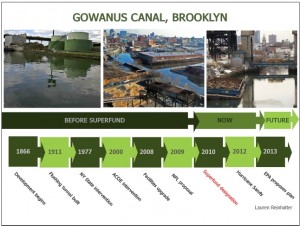 Almost immediately upon its completion in the 1860's, the Gowanus Canal in South Brooklyn became known for its contamination. In 1887 the New York Times reported that the Canal "was pronounced to be offensive and dangerous to the health of the people presiding in the vicinity". This "water highway" was purported to carry the power of the sea right into the city, bringing with it industrial capabilities; but in fact, the dead-ended canal was a semi-stagnant body of water without tidal flow to flush its contents out into Gowanus Bay.
On March 4, 2010, after over 100 years of degeneration and political paralysis, the Gowanus Canal was finally designated as a Superfund Site by the Federal Government. This designation allowed the Environmental Protection Agency (EPA) to investigate contamination at the site and develop a remedy. As recently as March 2013, the EPA finalized a $500 million plan to dredge and cap the Gowanus Canal; however, the cleanup has yet to begin.