Author: Cassia Kisshauer
Cassia is a student at Pratt Institute School of Information. She has earned a Master of Theological Studies from Vanderbilt Divinity School with a Certificate in Jewish Studies and a Bachelor of Arts in History from Belmont University. She has worked as a graduate assistant in theological libraries and special collections. Currently Cassia works in Access Services at NYPL Library of the Performing Arts.
Her interests include theological librarianship, biblical studies, Southern studies, Jewish studies, rare books, and special collections.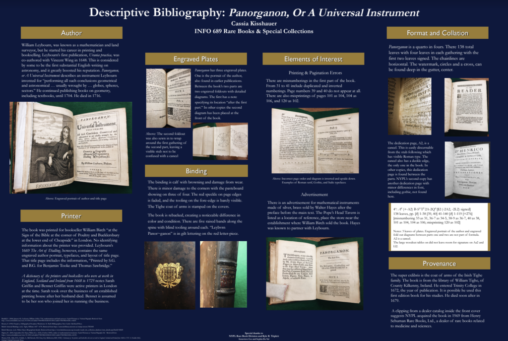 A descriptive bibliography of William Leybourn's 1672 book Panorganon; Or A Universal Instrument. Evaluating the book's physical makeup, creators, condition, and history.
The United States has a long history of forced family separations. Included in this guide are historical examples of family separation enacted through slavery, Native American boarding schools, and Japanese-American internment camps as well as enduring examples like the effects incarceration and immigration policies. These practices and policies are based on fear, inequality and structural injustice. These systems lead to destruction of identity and trauma, sometimes lasting generations.