I attended a panel discussion called Transforming Designers – Not Just Another Working Day. The idea behind the event was to reflect on how the role of designers is changing in modern contexts since designers are no longer limited to their studios and a wide range of organizations are now developing their in-house design teams. The event was part of a series organized in collaboration between the Service Design Drinks Milan and NYC Service Design Collective which are groups of volunteers who bring together service design academics, professionals and enthusiasts.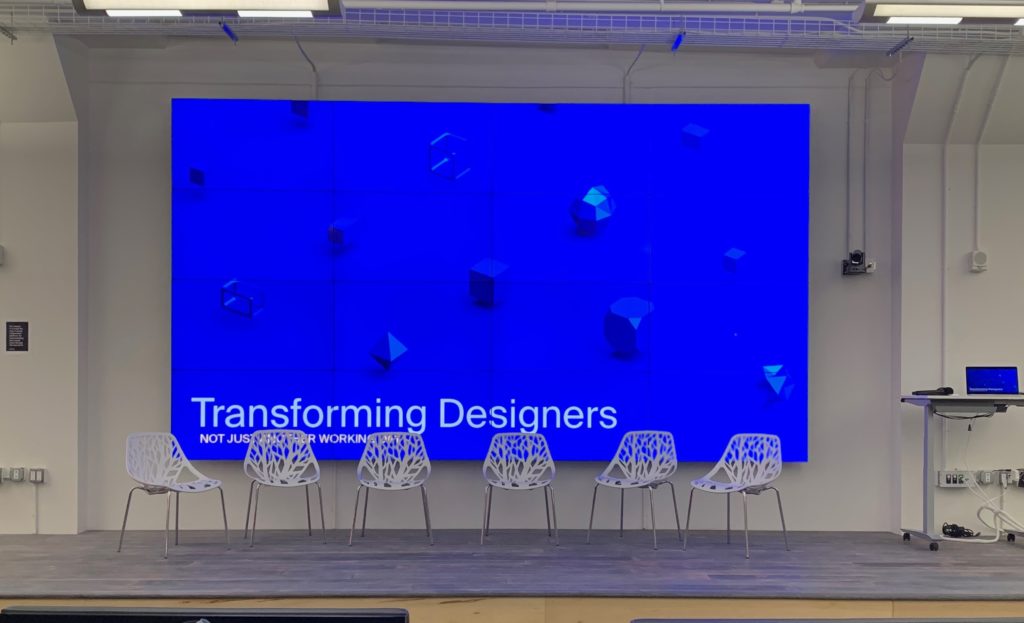 I had two big reasons why I was drawn to this event. Firstly, I decided to pursue graduate school in the field of design because I believed that public service delivery in my home country of Pakistan needed to be improved through the principles of human-centered service design. So I was curious to hear how service design had fared in the US especially in the public service domain. Secondly, since having started graduate school, I had begun to study the emerging issues of science, technology and society, such as issues of algorithmic bias, surveillance capitalism and digital labour. I had also recently attended a talk on AIGA's Design Futures project which proposed the idea of 'environment-centered design' which is design driven by core values for good. I was pondering over whether these discussions that were happening in academia also resonated with the industry and whether they influenced the professional designers.

The panelists for the event were:

Joanne Weaver
President, The Joanne Weaver Group – UX / Product Design Recruitment
www.linkedin.com/in/joanneweaver

Adam Perlis
CEO, Academy Product Design Agency
www.linkedin.com/in/adamperlis

Mirco Pasqualini
VP & Global Head of Design, Originate
www.linkedin.com/in/mircopasqualini

Tim Reitzes
Design Lead at the NYC Civic Service Design Studio at Mayor's Office for Economic Opportunity
www.linkedin.com/in/tim-reitzes-78810139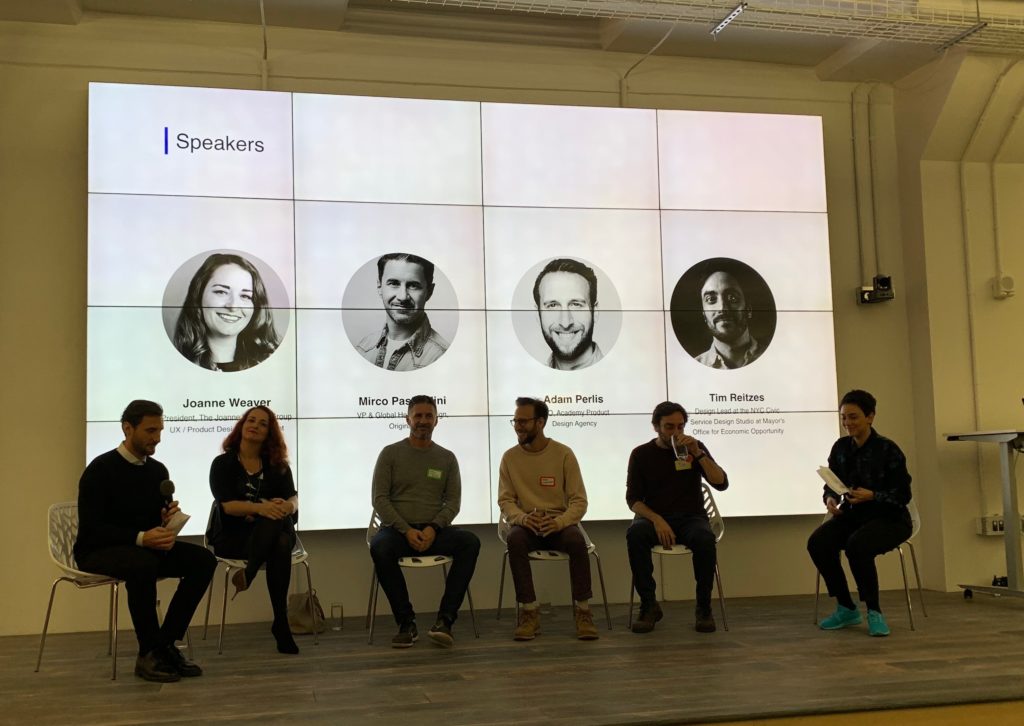 The discussion followed five main topics which the panelists addressed one by one.
Are designers leading?
The major consensus was that up until a few years ago designers would get pushed around by product and engineering but in the last few years however this has changed a lot in the last few years. Designers are increasingly being seen as change-makers and 'internal consultants'. Firms have identified the value of their insight. Senior designers are now applying their concepts of design to the designing of organizations and processes. However, on the public administration end this is still harder to do because of bureaucratic red tape. The takeaway was that designers need to identify the value they can create beyond their skills of design and drive this change themselves. 

Given the new roles of designers, what new design skills or areas of study are emerging?
"Design Strategist" is becoming a popular position that companies are hiring for. What they are looking for is basically a hybrid of UX researcher, digital strategist and information architect. A good reflection of this trend is that even McKinsey and Company are hiring for this position in their consulting teams. Voice Experience (VX) design is another upcoming skillset and position as voice interface and assistants become popular.

"Co-creation" is also a skill that's being sought after, especially in the public service domain. All the panelists emphasized how valuable it is for a designer to know how to manage a co-creation process and how difficult it is to pull off. Adam Perlis gave the example of his company's approach of trying to "be in bed" with the clients by working in their offices, pairing up with actual employees and shadowing and sharing the actual work. Tim Reitzes talked about the difficulties of convincing public service stakeholders of the value of co-creation.

Another point under discussion was that its a challenge for designers to apply for these new roles because of their legacy job titles. There was some consideration that designers should just give themselves the title they want based on the actual work they are doing. Joanne Weaver being the recruitment expert here suggested that designers can add subtitles to their resume but the actual title should remain the official one.

How do you measure the value of design?
All of the panelists agreed that this is a difficult question to answer in most circumstances. It's the "white whale" of design, everyone is looking for the right answer but no one has figured it out. However, the general agreement was that KPIs are important and they should be chosen on a case-by-case basis. Some additional metrics may also be needed such as 'how many opportunities did you create as a designer?' or 'how many minds did you open?' with the focus being capturing the impact the designer has had.
Data & creativity – which drives what?
This is where I was most surprised by the position of the panelists. The question was in your design process, do you first start with your creativity and come up with some out-of-the-box concepts and then validate them using data or do you first use the data to find the biggest problems and then use your creativity to solve them? I expected the panelists to say that it's a bit of both but they had a consensus that it was important to start with the data first. This is the most efficient or cost-effective way.

What is the role of ethics in design today?
All of the panelists agreed that it's become very important for designers to understand and be aware of the ethical implications of the products they design. The panelists highlighted how technology is influencing our social fabric, there are dark UX patterns everywhere and attention is the new currency. The panelists urged designers to think and list out all possible unintended consequences of their design decisions and the long term sustainability of the solution. Adam Perlis made a point that often clients may push you away from fairness and transparency and that becomes a very difficult space to manage.
It was exciting to hear that the role of designers is expanding into areas of strategy and leadership. There was a palpable excitement in the room full of designers about the future of products with designers on the decision making table. It's also quite empowering that the nature of this expansion of the role of designers largely lies in their own hands. Apart from that, it was also encouraging to find out that the industry professionals were also eager to think critically about the impact technology is having on our society and they acknowledged the severity of the major issues which need to be addressed.