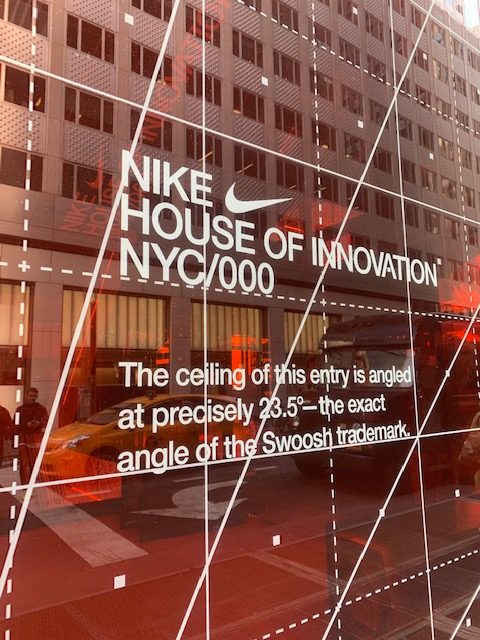 When considering the kind of information environment, I wanted to observe, I wanted to observe the evolution of physical retail experience. I chose this because retail environment is experiencing a lot of changes after the emergence of e-commerce. Ground breaking retailers are seeing an incentive in looking priceless and administration to make a vivid shopping knowledge intended to pull at heartstrings and catch client dedication, notwithstanding for a brief timeframe. Developing innovation makes it less demanding to mix the physical and advanced retail understanding to give better knowledge into client conduct and expectation — and make a really special vivid experience for their clients. Retailers can utilize this total picture to make an increasingly customized shopping knowledge, drive transformations, improve client administration, and set themselves apart from their opposition.
I decided to go to the Nike Flagship store in Midtown on a weekday afternoon as it provides knowledge in a situation that is as responsive as digital. This Six-story space is called as the "House of Innovation 0000", a very first effort of Nike to bring retail to life.
While walking on the fifth avenue, the whole black building with frosted patterned glass panels and a huge Nike logo grabs my attention. The architecture itself gives information of from where the entrance is. The red glass door opens up to a sci-fi art installation of computers having heat maps and holographic shoes stating the identity of the brand. The store consisted of young visitors. The first floor is treated as innovative museum of Nike. It consisted of information of design process on screens and showing prototypes of previous shoe designs and the latest designs for sneakers. It also encouraged people to download its app to get the full experience of store. There was a digitally heat mapped sports court installed inside where people could experience their shoes before purchasing it. The tiles on the Arena can be reworked to have new spaces and designs; as the choice develops, the store format can advance as well, making the House of Innovation 000 an adjustable store in each feeling of the word. I think this was a really interesting feature because only in retail you can understand the feel of the shoes and nothing better than playing the game of choice in it to understand the comfort of it.
I was directed to the second floor where there was Women's clothing section. Here there were barcodes besides every product. People need to scan that barcode to purchase the product or get the desired size in the changing rooms. This helped people to roam around the store without carrying the weight of the cart. The whole process of shopping was digitized which made retail fun. Similar facilities were provided in the Men's clothing section on the third floor.

On the fourth floor was the shoes section. It had a sneaker bar and various designs in shoes. A full customization wing of Sneaker Bar, conveying on Nike's spearheading DIY soul and offering an abundance of bands, textures, decals and more with which to adorn a wide determination of consistently invigorated footwear. People could customize the shoes themselves. The younger generation and shoe fanatic people were really enjoying it. Even in this section there was a barcode besides the shoes which should be scanned using the Nike app to get it of size and choice. This barcode scanning is a really a great feature because then I need not search for a representative and wait for the whole process of finding a shoe of choice.

This leads me to the last floor of the building where there is a Nike Expert Studio. This feature of one-on one joint collaboration with expert stylist can be booked by Nike members in-store and on the Nike App. I think this section was very VIP section where people could interact with stylist and get customized clothes or clothes that suits their body type or style. Very few people were coming to this section. I personally think this section was not getting as much attention as previous ones. They have not given much information about it even while entering the store.
Observing this whole space was really interesting. It appeared that some visitors were there to only experience the innovative retail space. They were curious about the interactive features and the technology used in the store. Despite the unfamiliarity of technology some people were inherent on using it as someone would think they were stealing from the store. The young generations were very engaged with the technology. But the older generation was sticking to the conventional style of retail.
As Bates stated in Fundamental Forms of Information, we will simply consider subjective experience, including the experience of remembering, to be the first on a list of kinds of embodied information that result from neural encoded information. I really enjoyed observing people first taking the experience of the product and having hands on customization which then lead them to buy the product. I observed what Marchionni said changes in the human–information interaction entities relate to learning or other mental state changes in the human and usage changes in the information object. I could sense the different between interaction with technology of different generation which depends on both urge of learning and mental state.
I trusted it is the ideal convergence of individuals, innovation, and style in one space. The space had the capacity to speak with its city through individuals and advanced administrations, welcoming a discussion that is synchronized to the client. From my perspective the whole technological process is overwhelming if you are trying it for the first time. But if this is the future of physical retail, people will get used to it eventually. Overall it was a great initiative taken by Nike Team.
References:
https://news.nike.com/news/nike-nyc-house-of-innovation-000
Marcia J. Bates Fundamental Forms of Information, Journal of the American Society for the Information Science and Technology, 57(8):1033–1045, 2006.
G. Marchionini / Library & Information Science Research 30 (2008) 165–174.
Richa Kulkarni, INFO 601-02