On the first warm day in April, I decided to visit my favorite branch of the New York Public Library, the New York Public Library of the Performing Arts, Dorothy and Lewis B. Cullman Center (LPA). One of Manhattan's research libraries, LPA is tucked between the Metropolitan Opera House and the Vivian Beaumont Theater at Lincoln Center Plaza. Upon entering, visitors can stop at the front desk for information about other NYPL research libraries' locations and business hours and to pick up some LPA publications. Only feet from the entrance, I was already getting a sense of the knowledge infrastructure of cultural and educational activities that both reinforces and is reinforced by LPA's commitment to performing arts (Rubin, 1-2). I flipped through a booklet of Spring 2019 LPA Programs and Exhibitions, excited to see what was in store. Unfortunately, the latest exhibitions had been removed in late March, the upcoming exhibitions would be ready in mid-April, and no performances or workshops would be taking place that day. Lucky for me, the front desk administrator informed me that I could still catch an exhibition about Uta Hagen, an actress and teacher, on Level 3 and provided a brochure of Hagen-related LPA events taking place in April.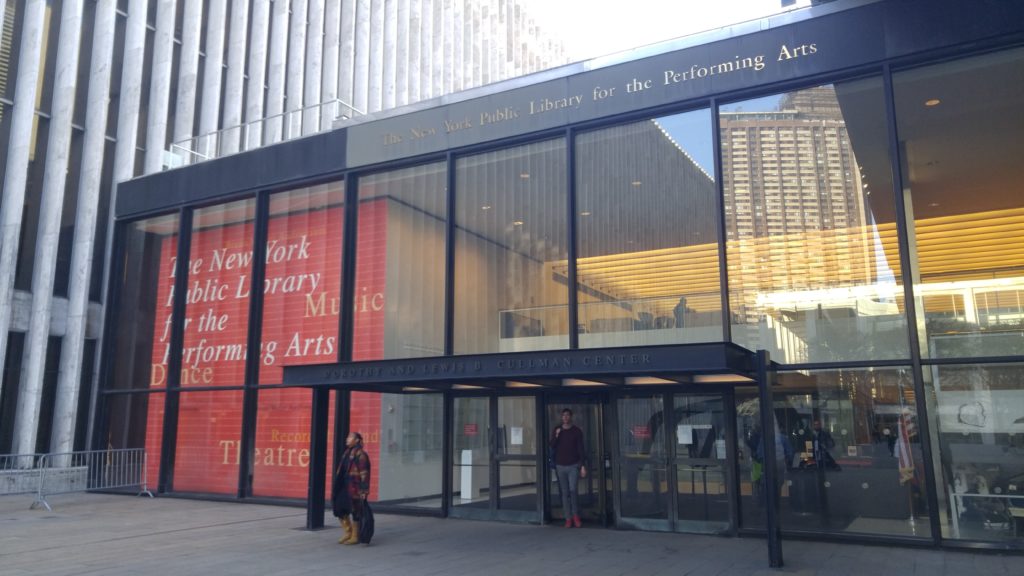 Behind the front desk, the Donald and Mary Oenslager Gallery, a large exhibition room, stood empty and the Plaza Corridor Gallery, a wall exhibition space, stood blank as well. Further down on Level 1, I found self-service copier rooms, a circulation desk, biographical circulation items, and public Internet stations. Most visitors on this floor were sitting at the Internet stations to view or listen to reference materials. The main reference materials on Level 1 are Song Index, Scores, and Recorded Sound items, ranging from Madrigals to Yiddish Songs. The Song Index shelves feature an interactive audio installation exhibit, Archives of Sound. Signs instruct visitors to put on headphones hanging from the shelves and to flip nearby switches in order to hear snippets of archived sheet music. I couldn't take advantage because the exhibit was temporarily unavailable, but I was instantly reminded of Karim and Hartel's designation of music information retrieval, and art in general, as a "higher thing" in information science. I was curious to see if LPA would live up to Karim and Hartel's vision to recognize the "informational facets of higher things in life" (Karim, 1133-1137).
Most of LPA's circulation items can be found on Level 2, including books, scores, CDs, DVDs, videos, and reviews. Each aisle presents staff picks of books related to the performing art on the corresponding shelf. At the circulation desk, I found two useful handouts. "A Guide to Circulating DVDs" lists the types of DVDs found in each aisle. For example, DVD Biographies C-Z can be found on Aisle 7. It also includes a guide to DVD types ("DVD 782 encompasses opera and musicals") and how LPA organizes DVDs. I was surprised to find out that LPA alphabetizes most DVD types by letter, but not within letter. The second handout, "Circulating Scores Chart", lists the types of scores, their call numbers, and the aisles where they're located on Level 1. The circulation desk also provides a request form for visitors who are interested in viewing or listening to audiotapes, videotapes, or other media from LPA's Jerome Robbins Dance Division. Most visitors on Level 2 were either browsing items in the reading room or using the computers.
Finally, I headed up to Level 3, where visitors can really take advantage of one of the world's largest collections of performing arts materials. LPA's special collections are the Billy Rose Theatre Division, the Jerome Robbins Dance Division, the Music Division, the Rodgers and Hammerstein Archives of Recorded Sound, and the Reserve Film and Video Collection. Their contents inform and expand the debate surrounding Buckland's question, "What is a document?" (Buckland, 4-5). In addition to things like manuscripts, photographs, and published and unpublished work relating to performers, the Special Collections also boast objects such as set models, audio recordings, and phonograph cylinders of live Met Opera performances from the early 20th century. Bags and outerwear are not allowed on Level 3. To enter, I had to go through a mandatory coat check and leave everything except the items I would be using: my pen, notebook, and phone. Once inside, visitors can check out items to their library cards for the duration of their visit – items are not allowed to leave the walls of Level 3. Black cabinets of subject specific card references for Music, Recorded Sound, Dance, Film, and Theatre line the walls. Visitors can use these card catalogs, the online catalog, or the archival materials search portal to identify and request items for research. Most Special Collections items are housed offsite and need to be requested in advance to allow for transportation. I observed many visitors studying books, magazines, and microfilm in the reading section nearby. Delicate items, such as rare books, clippings, and sheet music are only released in the Special Collections Reading Room, where I saw a number of visitors conducting research. Special Collections visitors are required to submit a registration form and adhere to the Special Collections Photography and Photocopy Policy.
Towards the end of my stroll about Level 3, I found the Uta Hagen exhibit that I had heard about at the front desk. I also happened upon smaller, more niche exhibits, like one about music in the time of Jane Austen. As I was exiting Level 3, I noticed that the wall across the coat check had been transformed into a large bulletin for information about upcoming performing arts events. I expected to find ads for major performances at Lincoln Center, but was pleased to see that there were mainly posters hung by visitors who were both publicizing their own forays into the performing arts and contributing to the knowledge infrastructure that props LPA. Overall, I was impressed by LPA's institutional support for a focus on higher things in information science, how it highlights the information value of pleasurable things like the performing arts, and the way it invites visitors to participate in the city's performing arts culture.
References

Buckland, M. (1991). Information as Thing. Journal of the American Society for Information Science. Jun1991, Vol. 42 Issue 5, p351-360. 10p.

Karim, J. & Hartel, J. (2007). Information and Higher Things in Life: Addressing the Pleasurable and Profound in Information Science. Journal of the American Society for Information Science and Technology, 58(8), 1131-1147.

Rubin, R.E. & Janes, J., (2016). The Knowledge Infrastructure. (1-30). Foundations of Library and Information Science. Fourth Edition. Chicago: ALANeal Schuman.
INFO 601-02 – Observation