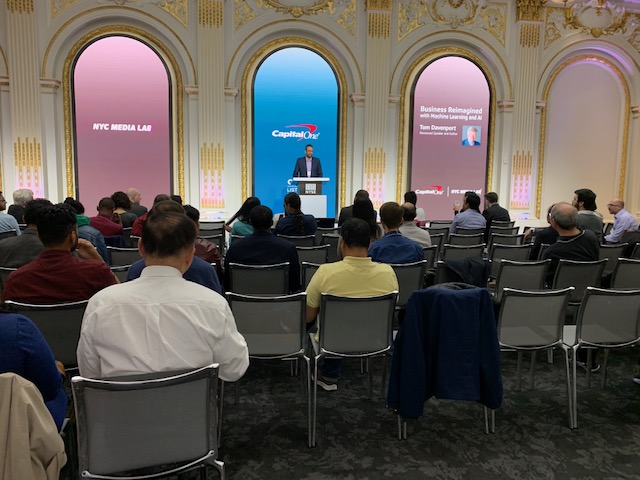 AI is real and it can be used to benefit the business and competitive advantage. There is a strong relation between the analytical capabilities and AI capabilities of the company. The business value that AI offers is solid. It will improve products and processes and make decisions better informed.
On April 9th 2019, Capital One and NYC Media Lab hosted an event on Machine Learning and Artificial Intelligence. The purpose of the event was to stimulate the deep discussions on the various aspects of future of machine learning and AI and real-world applications. This event looked into various aspects of machine learning such as the unprecedented impact on businesses and new considerations, challenges and opportunities that the technology will bring. The speaker of the event was Tom Davenport who is the professor of Information Technology and Management at Babson College, a fellow of the MIT initiative for the Digital Economy and a Senior Advisor to Deloitte Analytics.
The seminar started with welcoming Tom Davenport on stage. Tom began with the seminar with stating the facts of AI in large American companies. He believes that 20-30% are AI aware and actively employing multiple technologies but very few put AI at first. Many firms are setting up AI management and infrastructure to automate jobs but AI have challenges of its own like implementation, integration, talent and data. But as he says the growth of AI is unavoidable. The questions initiated in this event were if we should have major ambitious AI projects or a number of small ambitious projects.
AI technologies is a constellation of machine learning, neutral networks, natural language processing generation, rule engine, robotic process automation, digital workflows, custom integration and combination of these. But the most used technologies by companies are machine learning, deep learning, use of natural language processing and the robotic process. Tom mentioned that most AI projects fall into major three categories like robotics and intelligence automation for routine and data intensive administration tasks, AI based insights for insights from structured data and AI based engagement for interaction with customers or employees. AI not only helps in the automation of process but also benefit in enhancing the products, optimize the operations, make better decisions and many more.
Tom gave few examples of companies having successful AI technologies. Vanguard, a financial portfolio management company, uses AI for One Big Application which is a "Personal Advisor Service", it combines automated and human investment advice for portfolio rebalancing, tax loss harvesting and retirement income scenarios. Pfizer, a medicinal drug company, uses machine learning to classify prescribers of pain drugs and target discontinuing patients. Capital One uses machine learning to focus on credit decisioning and all aspects of customer interaction and operation. Google puts AI first to rank page and advertising algorithms. Google also has research labs to do research on AI and deep learning.
Looking at these examples, Tom also explained that there are companies having both less ambitious and major ambitious projects which did not succeed. The most prominent example is of M.D. Anderson Cancer Center had a highly ambitious project to use AI to treat certain forms of cancer which treated no patient and the project was put on hold. But has a series of projects using CognitiveScale technology which is a success and it improve patient satisfaction, operational efficiency and financial returns.
Although AI technologies are growing a fast pace but it will definitely have an impact on jobs and skills. But there will be primary challenges faced by companies like implementation, integration, cost of development and lack of skills. There will be jobs which will be to collaborate with smart machines. Tom believes that people can overcome this future employment issue if they strategize about how AI can transform and strategize your business model or process, start with less ambitious projects, emphasize on augmentation, take skills training, put an ethical framework in place and put someone or be in charge of AI. As Geoffrey C. Bowker, Karen Baker, Florence Millerand, and David Ribes stated in "Toward Information Infrastructure Studies: Ways of Knowing in a Networked Environment" that "it is the distribution of solutions that is of concern as the object of study and as a series of elements that support infrastructure in different ways at different moments". To end with Tom says that we should be the solution by scaling up and skill out on AI than finding potential solutions about it.
After attending this event it made me realize that I just don't have to learn designing of the currently available technologies but also data and technology available in the future. As Gary Marchionini stated in "Human–information interaction research and development understanding" that "proflections form and evolve and discovering ways to manage them provide exciting new challenges to the information field'. As an information professional, through this event I understood that how I should adapt to Artificial Intelligence and create employment opportunities in IXD professions.
Reference:
G. Marchionini / Library & Information Science Research 30 (2008)
Geoffrey C. Bowker, Karen Baker, Florence Millerand, and David Ribes / Toward Information Infrastructure Studies: Ways of Knowing in a Networked Environment ,102
Richa Kulkarni, INFO 601-02