Boo-Horay is an organization dedicated to the archiving of ephemera, photography, and book arts from 20th and 21st century counter-culture movements. They operate mainly from their small space on the third floor of 277 Grand Street in Lower Manhattan. On December 12th, I decided to pay the space a visit via a completely unannounced walk-in.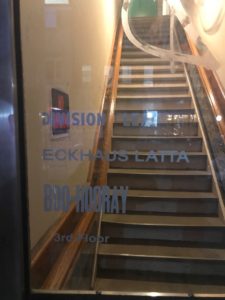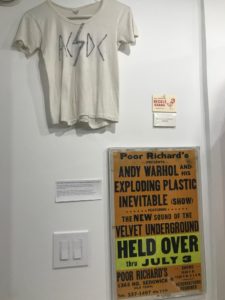 Despite the unexpectedness of my presence, the staff at the space were very easy-going, friendly, and accommodating. The space is divided into two areas: one more public-oriented where they host events and exhibitions in addition to (at least for the time being, due to lack of workspace) process archival materials, and an office where most of the staff can be found at their desks working on various projects. In tandem with the staff's artistic backgrounds and interest in counter-culture, the space is organized in a very informal way. Nevertheless, their resume is very impressive. The organization has handled archives from the likes of Larry Clark, Ira Cohen, William S. Burroughs, and Ian Dury, as well as putting together the Paris-May 1968 collection at Yale University's Beinecke Rare Book and Manuscript Library, and the Hip-Hop History Archive at Cornell University.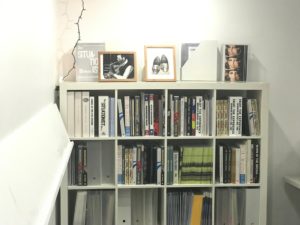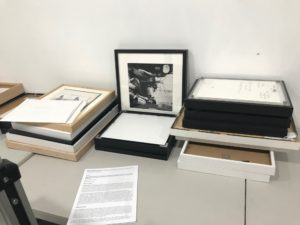 Upon entering, I was greeted enthusiastically by Johan Kugelberg, the organization's founder and head curator. Johan is a colorful person with a fascinating background, of which I am unable to go into detail about here. He was going to speak at 8-Ball Community, a zine archive and library, later that evening. After I spoke to him about being an archiving student and needing something to write about for my assignment, he introduced me to Beth Rudig, the Director of Archives at Boo-Hooray. Beth studied film at SUNY Purchase and has been with Boo-Hooray since 2015. She tells me that while she does not currently have a library science degree, she plans on acquiring one in the near future. She is currently working on a project pertaining to the costumes of renowned performance artists Joey Arias and Klaus Nomi.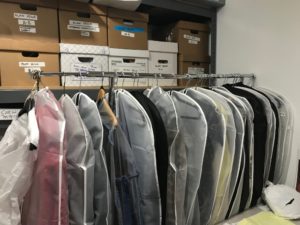 When I brought up digitization, Beth told me that most of the work is outsourced and that very little digitization happens in the space itself due to lack of resources. Staff makeup is very small, and they only have a few interns and volunteers. Aside from Beth and Johan, the remaining key curator is Daylon Orr, Director of Rare Books and Manuscripts, whom I unfortunately did not get a chance to speak to. Recently, he prepared Boo-Hooray's first rare books catalogue. The organization's next big project is the acquisition of an archive from a renowned filmmaker. When I asked who it was, they told me they would tell me, but then they would have to kill me.
Reflection
In his interview with Saturdays Magazine, Johan brings up a much-discussed aporia within the world of archives in the 21st century, and one in which we have spoke about in length in class. That is, the tension between the rise of digital technology, and the archive's purpose of preserving past artifacts and narratives. Archives are pushed to embrace digital technology as a means of preservation, and advocates for change usually point to the inherent impermanence of material objects. As Michele Valerie Coonan writes in his paper W(h)ither Preservation?,
"The paradox of preservation is that it is impossible to keep things the same forever. To conserve, preserve, or restore is to alter. Even if an object survives untouched, it will have changed just by virtue of aging or by a change in its surroundings."
But many feel that the increasing digitization of everything un-anchors us from the material world, as well as other people. As Johan articulates,
"A lot of people talk about content and archives that are born-digital and, I mean, look at all of our smart phones lined up right now and look at how you have thousands of text messages and photographs. You know your personal narrative of the last four or five years is contained in this machine. Our relationship to our memories has changed because we feel everything that's born-digital is so super ephemeral that it actually has less meaning. On one level that can obviously liberate people from feeling too anchored in their past, but the flip side is that it really boosts this sort of hyper-individual sense of the perpetual now."
This tension is a microcosm of a larger epochal problem in our culture brought about by the advent of digital technology, which we can broadly understand as the tension between modernity and postmodernity. While modernity seeks to retain a universal order that allows for rational communication, postmodernity argues for the embracing of the inherent irrationality, ephemerality, and atomized individualism of the digital era. While I would not dare to propose any sort of solution to such a monumental problem, I would simply conclude but pointing out that this tension is not necessarily one that needs to be resolved and that, as Jean-Francois Lyotard (the French philosopher who wrote perhaps the most influential text on postmodernism) once argued, modernity and postmodernity actually always co-exist. With this in mind, perhaps we can imagine the possibility of archives both embracing digital technology while retaining its traditional mode of preserving artifacts.