Pratt Library has two branches, one in Brooklyn and one in Manhattan. Pratt Library in Manhattan is a much smaller branch compare to the Brooklyn branch. With Wilson's information behavior in mind, for this observation, I was interested to see how a small school library operates and if they were able to make full use of its limited space to serve its patrons and embrace the community.
Physical Space Setup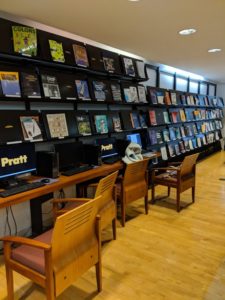 Even though the physical space is relatively small, the setup of the library makes it seem very spacious. There are nine book shelves in total, however, there are plenty of room between each shelf. In one of the blocks, a short stand is also provided for patrons to reach books on a higher shelf. Such design reflects the accessibility principle and provides convenience for patrons who are in search of information.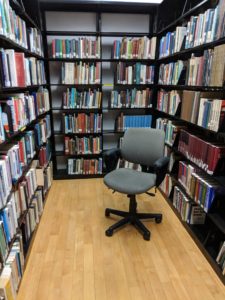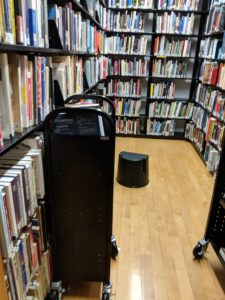 It also came to my notice that the librarians made a lot of display space for the books. For instance, an entire wall is designed  for journal/magazine display. A great majority of the journals are information library related, and less than five journals of the entire display is non-information related, such as Harvard Business Review, Rolling Stone and New Yorker. It is interesting to see that they also display quit a few children related librarianship magazines, such as the Horn Book and Children&Libraries. On the other hand, I only see two or three museum or archival related journals. I think the library did a great job in representing a variety of topics that could relate to the students, but the proportion of each topic needs to be adjusted. For information behavior, this large amount of display provides more opportunities for patrons who are not actively searching to receive new helpful information.
Welcoming Environments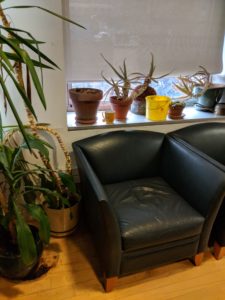 I also noticed that about half of the library space is designed for patrons to relax or work and study. By the windows, there are two big tables which allows group study. A coffee/tea cart is placed next to the two big tables. On the side, there are four small sofa where students can study on their own comfortably. There are also green plants on the windows. During my stay of three hours, more than half students used and stayed in the relaxing area to work on their own laptops. However, the seats were never full. There were always seats available. It shows that the relaxation space design meets the needs and expectation of Pratt students. Students use it as a learning space to acquire new information, regardless of whether the information is coming from the physical library. There are aspiring quotes about library and books. It led me to think of how libraries is integrated as an important part of the community. It is the environments that the libraries provide to its patrons to become more information open and available.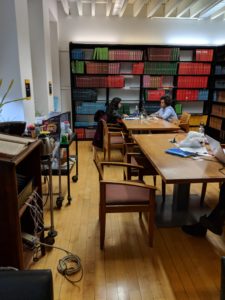 The Reference Room is at first sight when people come into this library. The words below the "REFERENCE" says "Please Enter". It is inviting and decreases the worries and shyness of entering a room (a closed space) for help. When I talked to the front desk about looking for a book that I was interested in, she was very friendly and helpful. She told me that even if they didn't have the book, they could request it for me from the Brooklyn branch. I appreciated that a lot, because it is indeed an disadvantage of fewer resources when coming to smaller library. The fact that the two branches can share resource and make them as available and as convenient as possible to their patrons definitely helps a lot.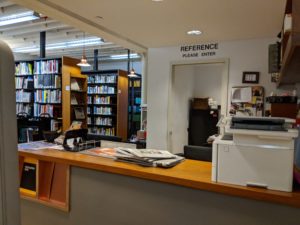 Overall, it is interesting to see how a school library operates within its community and use its space and service design to help and accommodate its patrons. Despite that the Manhattan branch is already doing a great job in serving its students, I do hope it will be more active and involving in the community by holding some small events, such as themed book week or small talks on popular information topics.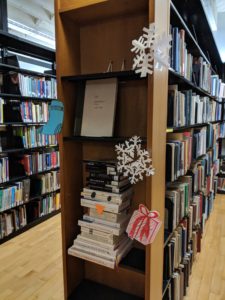 Theory used: Wilson, T.D. (2010). Fifty years of information behavior research. Bulletin of the American Society for Information Science & Technology, 36(3), p.p. 27-34.