I've never heard about The Rubin Museum until I had a conversation about cultural differences between Taiwan and China with my English Literature Professor Terri Bennett. After the interesting conversation with Professor Terri, I've decided to choose The Rubin Museum of Art to do my observation due to cultural, religious, and political related reasons. I was really excited to see how different audience behaves in such place that I defined as a "controversial museum".
Objective
Understand how the visitors from different backgrounds (includes culture, nationalities, and even ethnicities) behave or interact with the artworks in The Rubin Museum of Art. Below are something I'd like to know from this observation:
1. Rough demographic of the visitor (age, ethnicity, gender)
2. General behavior when browsing all artworks between Asian visitors and others
3. Interaction with the installation in "The Shrine Room" on the fourth floor.
Brief intro of The Rubin Museum of Art
The Rubin Museum is a museum that aims to "stimulate learning, promotes understanding, and inspires personal connections to the ideas, cultures, and art of Himalayan regions (The Rubin Museum, 2018)" by displaying collections of Himalayan arts.
Brief intro of "The Shrine Room"
"The Tibetan Buddhist Shrine Room evokes the aesthetics and atmosphere of a traditional Tibetan sacred space and offers visitors the opportunity to experience Tibetan religious art in its cultural context (The Rubin Museum, 2018)." This is actually not a "room", it's more like an open space with a fence to prevent visitors get too close to the installation.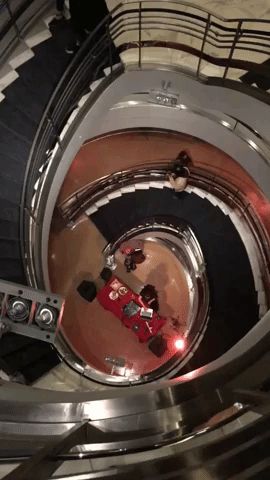 Results
These results are based on a three-hours long observation I did on Oct 26th, from 6:00 pm-9:00 pm. The Rubin had a free admission opening night for the renewed art installation called "The Shrine Room" on the fourth floor. All results might not be able to represent the general phenomena of The Rubin.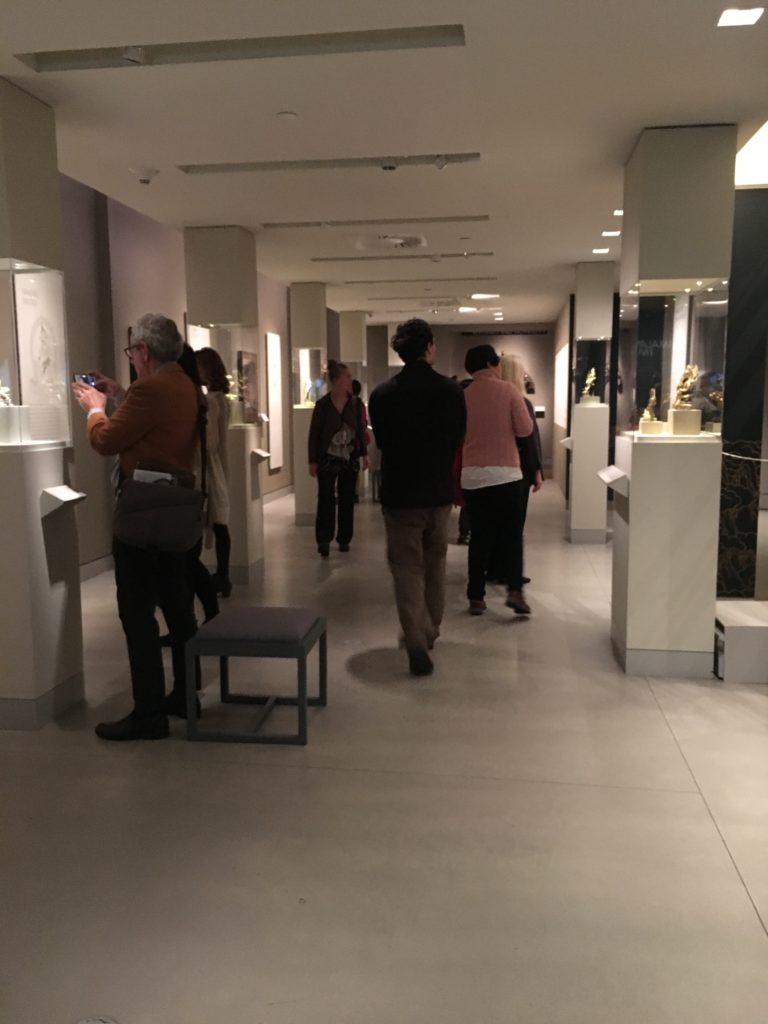 General
1. There were only a small amount of visitors are Asian (Only 3-4 Asian per visit group, each group has around 45-50 visitors). Most of the Asian visitors are female (Oftentimes there was only one man in the Asian visit group, each group has 3-4 visitors).
2.  Most visitors who are not Asian tend to take close-up photos for art objects like the statues of the deity. Asian visitors are opposite, few of them even pray to the statues of the deity.

The Shrine Room:
There were three types of visitors during that three hours:
a. Believer/disciple-they either prayed with beads or special hand
    gesture.
b. The curious ones-they just came and sat on one of the eight chairs in
    front of the art setting.
c. Selfie lover/Social media enthusiast-they took selfies with the
   "art installation", and some of them upload to social media.
2. Believer/disciple are most likely female, across the races/ethics.
3. Staying time is 15-20 min for almost every group of people, no matter
     they came for praying/meditating, taking selfies, or just sitting.
4. Most of the visitors who took the seats in front of the installation did not
     cross their legs, and did not even slightly open their legs. My assumption
     of this posture is the audiences were aware of the installation is solemn
     from a religious aspect.
Reflection
1. Broad stating "Buddhist art" to "Himalayan art" doesn't justify the misperception of The Rubin Museum of Art.
If you check the definition of Himalayan art online, no matter from academic resources or Wikipedia, the strong connection between Himalayan art and Buddhist art is undeniable. In this case, the way to display artworks and do storytelling need to handle with care, otherwise, the outcome might be misleading toward to a religious display in a disrespectful manner. When The Rubin claimed they did try to avoid creating a "faux Tibetan temple", I can't really find the supporting pieces of evidence while browsing their available collections. As a Taiwanese Buddhist (Which is highly influenced by Chinese Buddhism, it combines both Taoism and Confucianism), how the exhibits display in The Rubin bother me a lot for three major reasons:
A. No comprehensive review or introduction of all collection they display-
This brought up a cultural related issue: the misperception of the so-called "Himalayan art", and how other types of Buddhists perceive the collections in The Rubin Museum. My Buddhism culture oftentimes sees religious art creations as a solemn representation of god's wellness. Unlike Himalaya Buddhism, we worship the sculptures/paintings of deity, the mysterious powers are in those"solemn objects". The daily ritual practice is to pray in front of those"solemn objects", any disrespectful behavior would cause some serious punishment by the deity. The relationship between believers and the "solemn objects " is pretty restricted to a top-down affiliation from a religious aspect, and this might be the major difference between Taiwanese/Chinese Buddhism and Himalayan Buddhism, but there is no emphasis on the differences in The Rubin as a comprehensive overview of it's "Himalayan art" collection. I assume people have a similar religious background like me would misinterpret those art objects with existing understanding, and might not willing to visit at all.
B. Major collection/display generate a strong religious vibe like a temple-the major collection are paintings and sculptures, only a few other types of "Himalayan art" like masks or photographs are collected and displayed in the museum. The deity paintings or sculpture are the main objects of traditional ritual practice. If a place displays religious paintings or sculptures mostly without a proper storytelling or introduction, it would more likely to be treated as a "temple-like" space, I will share my findings with photos as supporting evidence later.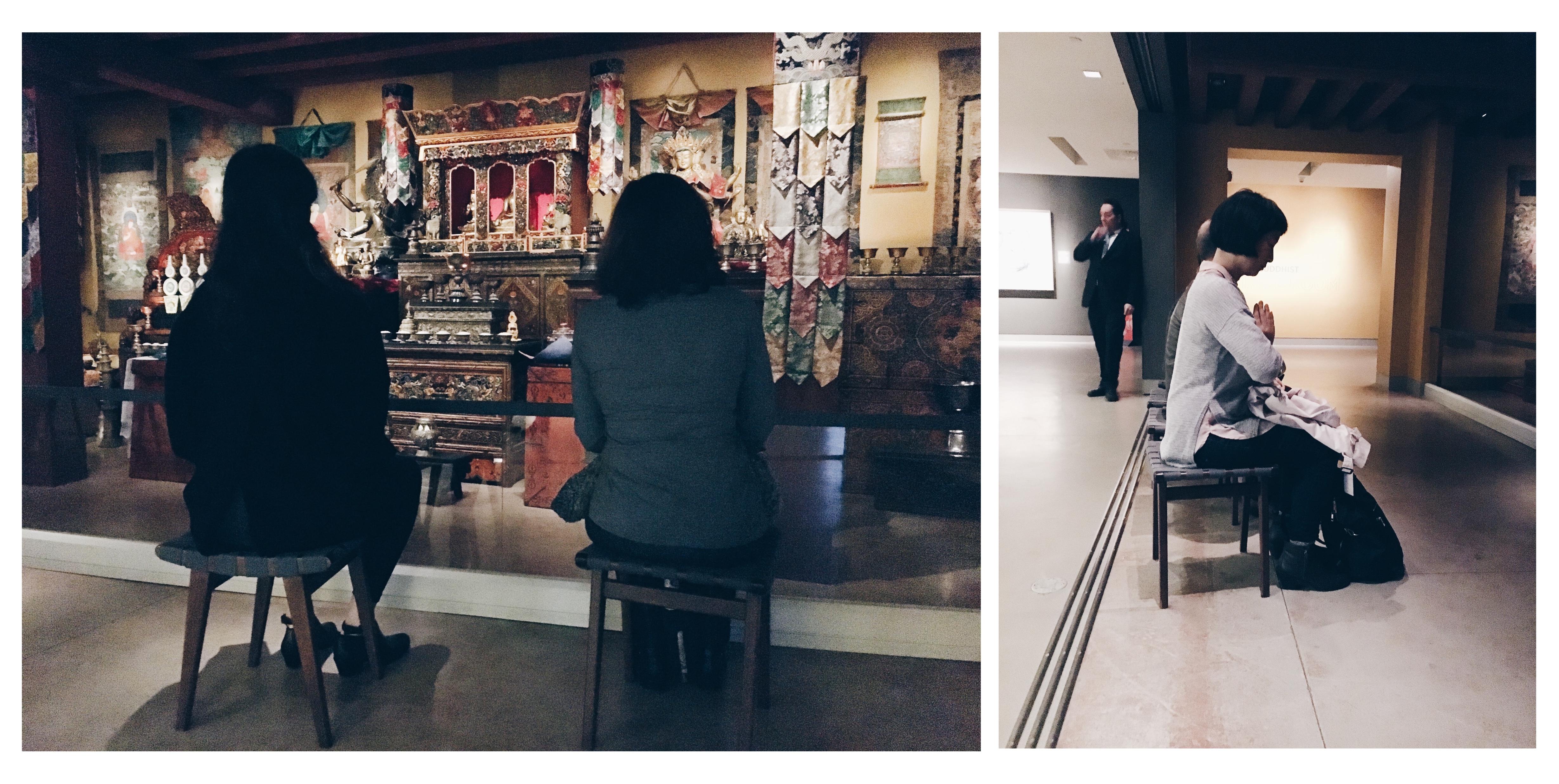 C. Lack of deep understanding of broad Buddhism culture leads to a weird contemporary "Himalayan art" outcome- there were some animated arts put Buddha and other main Buddhism figures into neon arts with some crazy cartoon-ish images. Not sure it's because of cultural difference or other superstitious reasons, it's pretty rare in Asia to see artist "play with" the Buddha figures. Often times people are afraid of this kind of recreation since that could consider as a disrespectful behavior and would receive a curse as a punishment. I personally feel so uncomfortable about those type of artworks, and I doubt if the museum ever considers their audience might interpret the artworks like me or not.
The Shrine Room experience is the most tricky part to me. I can't define it as a type of recreation to provide an immersive visit experience like an "artwork", or, it represents a type of preservation of religious art and culture. I am more tend to believe that's a preservation, to showcase how it looks like in Himalaya's family house, and what's the vibe. The reason why I don't consider The Shrine Roon as a recreation artwork, it's because there is no obvious storytelling or blending any contemporary art factor into it.
I read that as an authentic religious display room instead of an artwork. In this case, if we see The Shrine Room as a preservation project, then I tend to agree with what Cloonan mentioned in the W(h)ither Preservation article "Preservation must be approached not only as a set of technical solutions to technical problems, but also as a more complex concept that includes social dimensions (Cloonan, 2001)." Which The Shrine Room might fail from the social aspect- it doesn't tell a comprehensive story about the cultural, but a showroom to showcase those different objects that been used as tools in a religious ritual. This might attract the audience who just like to explore "interesting things" and don't care about the context (for example, the visitors just took selfies and shared it to social media without knowing the culture behind this installation).
Also, the way The Rubin Museum displays The Shrine Room as an installation without the ritual, might change how the audience interprets such display as a still sacred home-deco, not a place to execute the ritual, which misses the whole context of this room. It's already easy to change how we interpret an object over time, it would be way easier to lose the whole meaning without a proper introduction of a preservation. If "the primary goal of preservation is to prolong the existence of cultural property (Cloonan, 2001)," in order to preserve the cultural aspect, we should include the ritual or the life with the room to showcase the "culture", not just the objects.
The whole observation was really intense for me, I can somehow to relate why there were just a few Asian visitors during the observation. The whole museum doesn't provide a comprehensive introduction for the collections as art collections, because the museum tries to portray all those objects collections from a pure art aspect, which is impossible, since the reason why all the creation are made is to serve as a religious tool (most of the time). The Shrine Room is just not a good example as either an art installation or preservation, I'd prefer to showcase the ritual or any activity that involves those objects digitally, in order to preserve the whole "culture", so the meaning of the preservation would really "to prolong the existence of cultural property (Cloonan, 2001)." And that's what I think the true value of displaying all these collections.
Related Resources