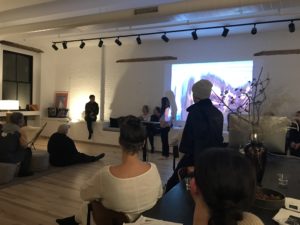 This past Tuesday I attended a salon for a museum non-profit called The Current. The salon, which occurs at the founder's loft quarterly, is meant ostensibly to close the gap between artist and collector by providing a relaxed social setting (shoes off!) against a backdrop of visual and interactive artworks in the museum's small but growing collection.
The mission of The Current is steeped aggressively in opening access to their collection. For a not-insignificant amount of money, one purchases a membership to The Current, which provides access to a USB Drive that contains the museum's entire collection, digitized. The member can then share the collection where ever they go. In the founder's own home, for example, the salon displayed five selected works from artists in attendance via a projector.
Perhaps most important, however, is the intangible benefit of membership to The Current, which is a vote in each discussion surrounding the direction of the museum. Members vote on which works to bring into the collection, as well as details surrounding future events and salons. On this night, the museum announced proudly that they planned to move into a permanent brick and mortar space in the neighborhood, a move that I assume was burnished by a members vote.
It was this emphasis on a sort of direct democracy (along with wine and cheese) that drew me into attending this salon.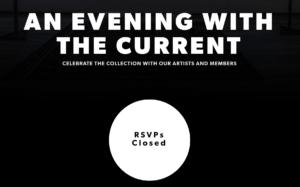 In a welcome toast, the Director made sure to note all of the technologists among its members. I'd spoken with an architect for the City of New York as well as an art collector at the salon by this point. Hearing an emphasis on technologists signaled to me where the money was coming from. This makes sense. The founder of The Current, William Nathan, got his start with Buzzfeed where he coded native advertising and analytical tools for cat video editors. He then founded an interior design startup before landing on The Current, becoming its primary financial provider.
With this context, The Current feels more like a startup than a proper museum. The crowd, which leaned young, affluent, and materially-interested, reflected a strong tech background. I met a guy who'd just gotten his first job out of undergrad coding for a major bank. Another young man who'd purchased a membership that night celebrated his new status by chest-bumping his friend and taking selfies during an artist talk about the video messaging platform Chat Roulette.
There is an element in The Current's messaging that implies that this museum exists to disrupt the existing museum infrastructure. On the museum's landing page in large text laid over a VR piece in the collection, the website informs visitors, "The Current is a non-profit museum with radically participatory patronage."
The art on display reflected this instinct. There was a piece made for VR in which the user goes through wormholes, for some reason. Another projected piece featured a loop of the artist waxing lyrical on the existential crises of being too connected on social media. Yet another piece was the artist, itself—that is, the artist was a virtual avatar projected on a brick wall. The person who wrote the code to create and project the avatar was not on site. One artist that I found interesting was an Iranian woman who saved, digitally scanned, and 3D-printed cultural artifacts that were targeted for destruction by ISIS.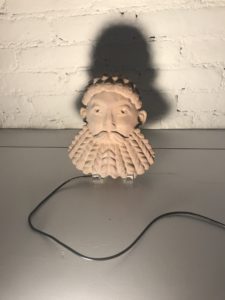 But for the most part I walked through the event wondering, why?
As an information professional with a background in tech in public libraries, I was interested to see how a museum, another cultural institution, was utilizing new technologies. In my previous position as a library assistant in the TechCentral department at the Cleveland Public Library, we had access to a number of VR machines and 3D Printers, which we would roll out to the public for open community events, not unlike the salon. As staff, we were tasked to provide context for these new machines for a public that was unfamiliar with the technologies.
After three years of working in TechCentral with these fabrication technologies, our staff still had not landed on a framework around which we would showcase the tech. We would more or less roll out the machines for the public to use, and explain how the tech worked. Beyond that there was no active learning. They were effectively toys.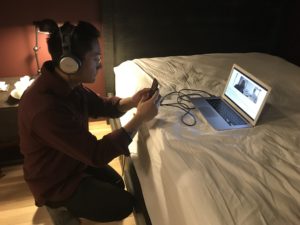 I encountered a similar attitude among the artists and collectors at the salon. Beyond establishing that, yes, this new tech is cool and interesting, I couldn't quite find a reason for it all. The same questions remained. How can VR function in the context of art in a museum, or in the context of informing the public at a library? What is a practical reason for a public library to demonstrate VR? The most clear explanation came from the Iranian woman preserving cultural artifacts. It's a shame she was an outlier.
In a cultural institution, I like having context for learning and for art. I lose interest when something is put on display without so much of an explanation. My experience at the salon was not unlike my time in TechCentral. There's all this new technology, but to what end? As an information professional, I think about this—why does a cultural institution house new tech if it's funders or patrons can't contextualize them?
My career goal is to find a way to contextualize new tech in a way that makes sense for my patron population. If the creators can't do that, then who can?