The Center for Communication is a nonprofit actively engaged in bringing diversity to the media industry. It is offering students a chance to explore their career options, network and collaborate with influential professionals.
Center for Communication held the event "The Video Gaming Industry in NYC" at SVA Theatre on the 23rd street in New York on 27th March '19. The Game Industry in NYC is burgeoning with expanding studios and start-ups. This development, coupled with New York's unmatched exposure and networking opportunities, has just about shifted the gaming industry's stronghold from the West Coast to the 'Big Apple'. Smartphones, tablets and computers becoming so easily accessible for all has paved the way for the video gaming industry. As of 2018, this industry is generating as much as $135 billion.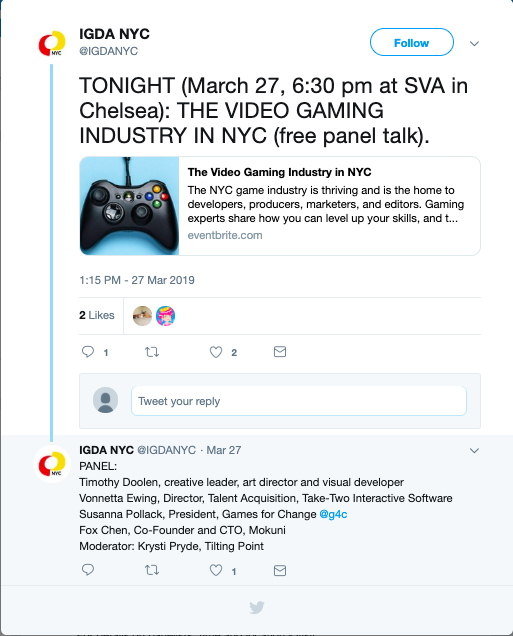 Five gaming experts represented the thriving industry at the event. They talk about how one can add to or hone their skills in order to land a career in the world of games, and also what NYC has to offer for game fanatics and developers.
KRYSTI PRYDE Brand Marketing Manager, Tilting Point
TIMOTHY DOOLEN Visual Developer, Graceful Decay
VONNETTA EWING Director of Talent Aquisition, Take-Two Interactive Software Inc.
SUSANNA POLLACK President, Games For Change
FOX CHEN Co-founder and CTO, Mokuni Games
Video games have entertained users for many years, and over time the community of patrons has only grown. Gaming has come from special gadgetry and hardwares to handy smartphones and tablets. Essentially every person who holds a smartphone/tablet has at least one game on their device, and enthusiasts go further to download softwares, even buy gaming PCs and consoles. As the game industry makes this shift, the demand for developers multiplies. Committed professionals elevate the experience of gaming to meet new levels, and young ardent fans aspire to join the craft.
The five speakers talk about their expertise and vocation before addressing the attendees' questions pertaining to making a career in the field.
It is true that when the industry was at a nascent stage, its development was identified particularly on the west coast of United States. However, with expansion the studios spread their wings to reach the east coast. Prominent studios such as Playcrafting, have established themselves in New York City. This has brought recognized experts, events & exhibitions, and opportunities to town. NYC's growing community offers programs for people starting out or transitioning from other specialities, support and networking initiatives.
One may wonder whether the opportunities to make a career in gaming industry of NYC come all the same for locals and non-locals. According to HR professional Vonnetta, nothing is more valuable to studios than a candidate's aptitude and qualifications. Companies are seeking talent across the globe.
What qualifications and skills are these employers really looking for? Clearly, knowledge of coding, engineering, algebra & geometry, computing, design thinking and graphics is expected. It largely depends on the position you are applying for. Beyond these the employers value soft skills, mainly clear articulation & communication, critical thinking, ability to collaborate, attention to detail, and of course creativity & efficiency. Having said that, a strong portfolio will do the groundwork.
A fascinating fact about the current video gaming scene is that it is no more limited to game designers and developers. The industry is welcoming professionals of other disciplines as well as transferring candidates. The 5 experts emphasise on the possibility of transferring skills and knowledge. To name a few "sought-after" roles in gaming, other than design, data analysts & scientists, finance & accounting specialists, security infrastructure designers, marketing experts, developmental psychologists & behavioral scientists are good examples. A non-traditional role that was mentioned a considerable number of times is User Experience. More so, there is need for knowledge of music, and there is casting for voice talent too. There are opportunities for people from all walks of life.
How to grab these opportunities is not a very difficult question if you are in NYC. Keep an eye out for the unending events, meets and conferences. Immerse in the community, network and get seen. Organizations constantly come up with competitions to attract new talent. Entry level talent can also get into the industry by taking up internships. Primarily, the key is to remain up-to-date with the industry news, stay engaged and connected with sources.
As a student of Information Experience Design, I realised a new prospect for my professional career through this event. The video gaming community is more vast and driven than I imagined. It has developed to become a leading contributor of employment opportunities for professionals of IXD among others. Furthermore, the industry has devoted itself to not only producing sources of entertainment, but also to making social change. Organizations are committed to designing for improving cognition, mental health and well being. The event has taught me to acknowledge and appreciate the game industry.

https://www.centerforcommunication.org/calendar/2019/3/27/video-gaming
References:
Marchionnini (2008). Human information interaction. Library & Information Science Research 30