InstaFame: Is It Relevant to Museums?
April 12, 2018 - All

Technology is often touted as the force moving society forward, a democratizing force. Social media technology, especially, has the power to build networks of people all over the world. Museums aren't new to social media, the majority are on several platforms. It is an inevitable reality of the present, and while some may consider it an opportunity and others a distraction, it depends on the individual perspective and how it's used. So how should museums proceed in order to get the most out of this democratizing force?
In 2016, Ben Davis wrote an article for Artnet, Here Are the World's Most Instagrammed Museums of 2016, that at first appears to be a classic listicle but turns out to be an interesting commentary on how the most Instagrammed museums don't necessarily align with the most visited. With this inquiry, he implies that onsite visits are the most important engagement factor for a museum. If that's the case, what value does the Instagram platform bring to a museum's social media arsenal? Readily available data for this platform can help us to take a deeper look at the ways in which Instagram expands a museum's audience. First we'll look at the top 5 most Instagrammed museums; coincidentally, all art museums. Then I'd like to take everyone down the rabbit hole with the full list of 25 institutions.

Methodology for Analyzing the Data
Using Davis' article as the starting point, manual spreadsheet entry captured the top 25 museums' Instagrammed ranking compared with visitor counts and Instagram follower counts. Follower counts serve to further a point that Davis made about a lack of correlation between Instagrammed ranking and Instagram follower counts. This observation isn't as dramatic as the gap between Instagrammed ranking and museum visitors but adds a level of complexity.
Supermetrics was also employed to collect data specifically for the top 5 institutions: post, like, and comment counts. This data spans from as far back as 2011, to 2017. The longer time period allowed for the discovery of a major trend on the Instagram platform.
Visualizing the Data
To assist with the graphing of engagement data and visualizations of the ranking information, Tableau and Piktochart tools were employed.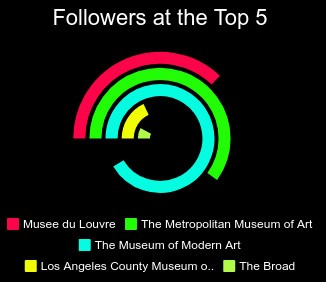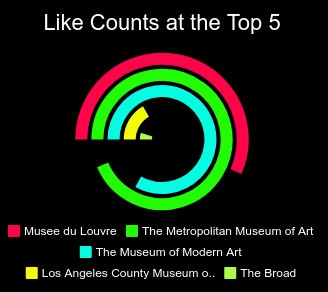 The swatch charts above reveal what might be considered an obvious conclusion that frequency of posts coincides with more followers and a higher likes count. It makes sense that the Museum of Modern Art (MoMA) would have the most posts, they adopted the use of Instagram the earliest, in 2011. However, in the last chart we can note that The Met's likes count beats out the MoMA by about 3 million likes, even though it has less posts (difference of 541) and less followers (difference of about 1,100,000). The Met's minimal use of hashtags in their posts makes this discrepancy even more surprising. Nevertheless, MoMA's use of tags is just as scarce and they never use the simple #MoMA hashtag, which would make it easier for the casual hashtag surfer to find their photos.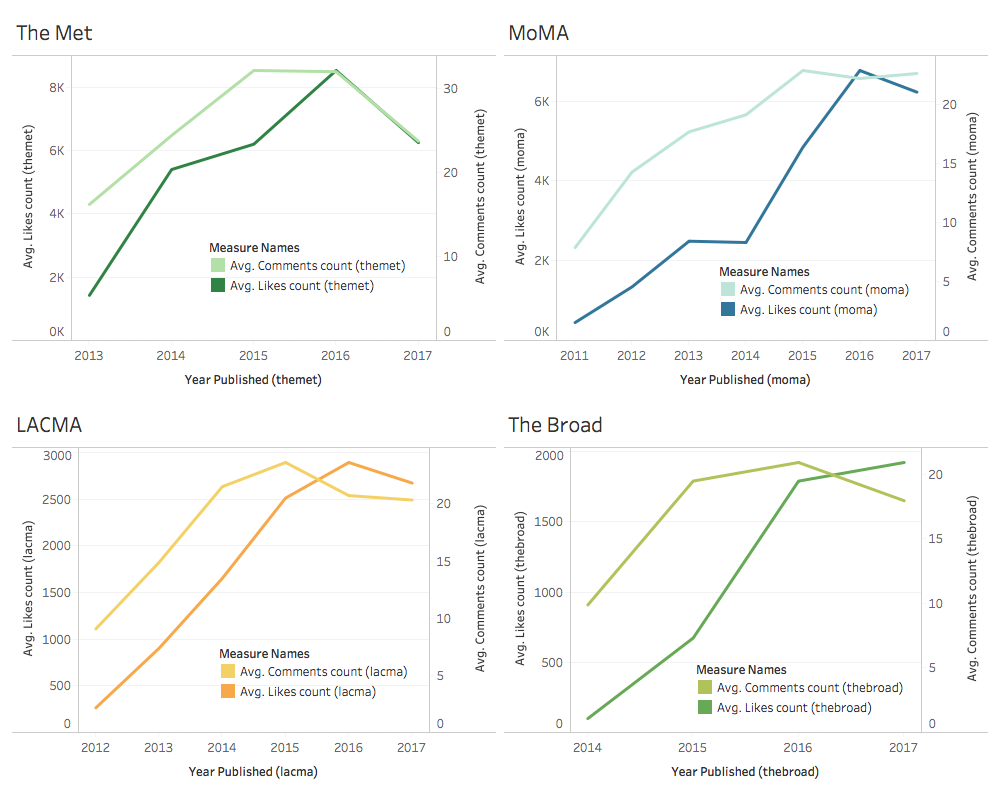 In the next set of line graphs above, an interesting trend is revealed amongst the four American museums in the top 5. Instagram interactions, likes and comments, started flattening out in 2015/2016. Is Instagram dying down, should we be prepared to switch to a new photo sharing platform? Or has the introduction of Instagram stories changed the way in which the platform is used? Most likely the latter. With each change to a social media platform comes a need to adjust the metrics and KPIs being measured.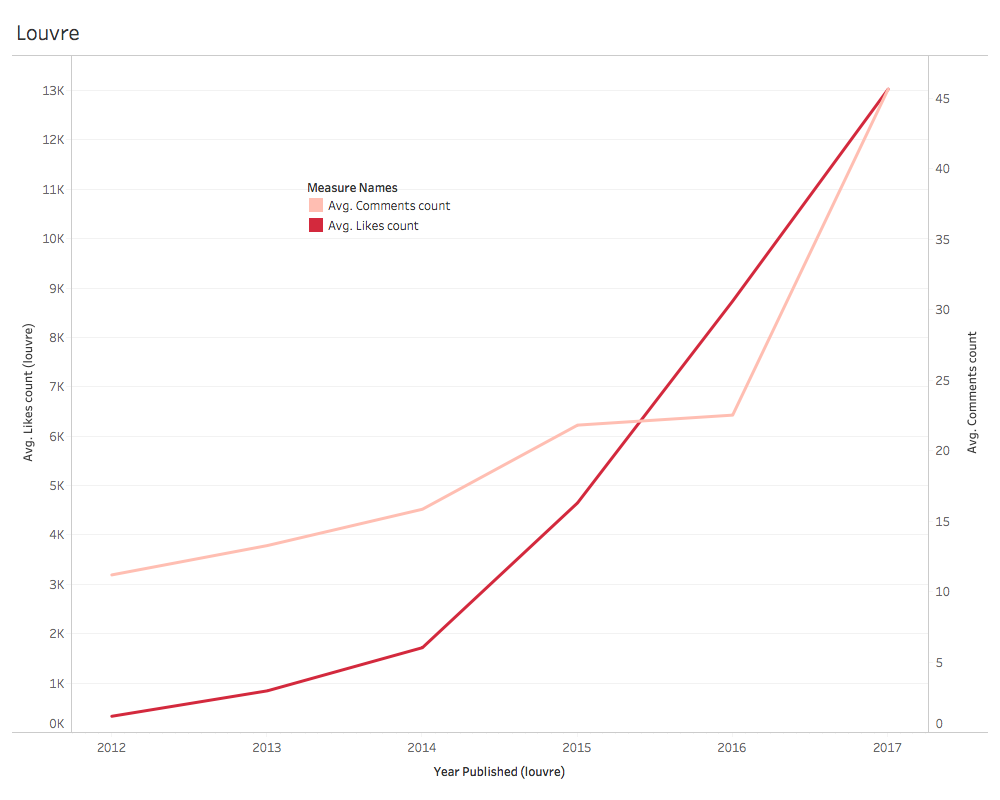 However, Louvre interaction stats, above, continue to increase rapidly. Is the Louvre more popular because it's more well known internationally? That appears to be a commonality amongst museums in the top 25 Instagrammed rankings that stay within the top 25 most visited. Another potential reason for the continued increase in interaction could coincide with the great anticipation that surrounded the opening of the new Louvre Abu Dhabi in November of 2017.
Instagrammed vs. Followers vs. Visits
Expanding the visualization of the data below to all 25 museums Ben Davis' point is made clearer.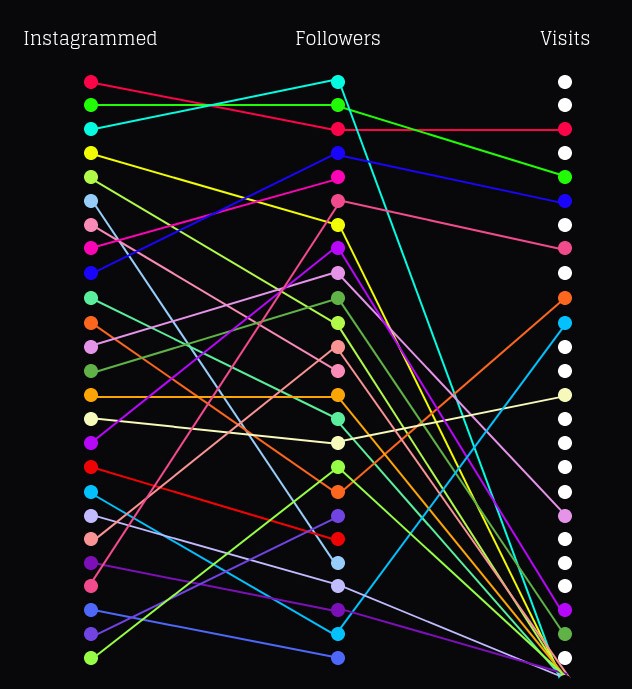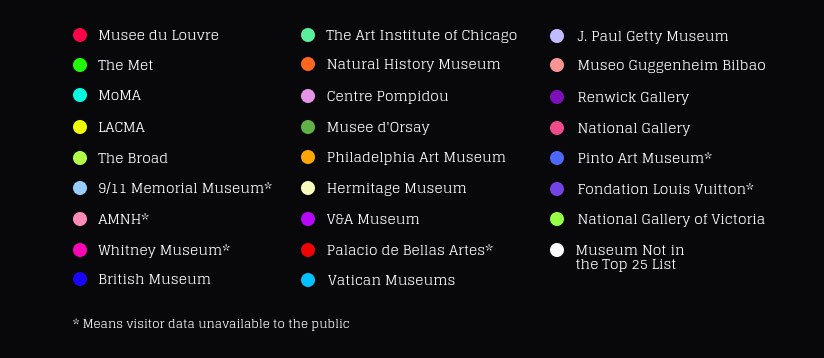 Observations on the Top 25
Only 11 of the 25 most Instagrammed are among the top 25 most visited. Less than half.
20 of the top 25 most Instagrammed museums are art museums. The top 5 are all art museums.
Only 2 of the top 5 most Instagrammed make up the top 25 most visited.
There are 6 Chinese museums in the list of most visited and 2 in the top 10 but none in the list of most Instagrammed. In 2014 the photo sharing platform was blocked in China after pro-democracy protests in Hong Kong.
How to Proceed
Given the story that the data told about the top 5 and top 25 most Instagrammed museums there are some conclusions we can draw about continued use of the Instagram platform.
Art Museums
When auditing use of social media platforms, keep Instagram. Art lovers are more inclined to use this platform for it's artistic qualities. The visual quality of exhibits, especially installations, lend themselves more to Instagram worthy moments. Ever hear of Yayoi Kusama? A natural history museum might be more inclined to use Twitter or Facebook because it would allow them to dictate the stories behind the artifacts. This could account for the steep drop off from most Instagrammed to most visited that occurs with many museums from the list. Not all museums share their collections best through images; sight is only one of five senses.
International Awareness
International acclaim breeds increased engagement and visits, just look at the Louvre's ever-growing likes count. Exploring popular apps and social media platforms in other countries could be a good way to expand internationally. This is especially true of a Chinese audience who may not have access to platforms like Instagram. In 2016, under former chief digital officer, Sree Sreenivasan, The Met bolstered its presence on both Weibo and WeChat to expand its reach with visitors.
Continue Exploring New Platforms/Features
Interactions with Instagram posts are slowing down among the top United States museums. The ways in which users are interacting with the platform is shifting. New performance metrics need to be determined in order to capture engagement with Instagram stories. Stories are even starting to compete with Snapchat as Facebook tries to edge Snapchat out of the market. Museum professionals could use personal accounts to experiment and practice with new platforms or features. Setting up a personal page as a business page allows a single person to analyze their own posts.
It's all in the architecture, the physical space.
The Broad renovated in 2015 and saw their Instagram numbers skyrocket. Visitor numbers for The Broad are far less than most of the museums in the top 25 and yet they have found themselves in the top 5 most Instagrammed.
Is InstaFame Relevant?
In most definitions of a museum there is some part about sharing information or a collection with the public and most museum mission statements reference educating. What better way to share and educate with a diverse population around the world than with social media. Certain social media pages, tags, etc, give followers a sense of psychological safety. This is a term from Google's study of teams, called Project Aristotle. Psychological safety was the most important of the five dynamics because it asks, "Can we take risks on this team without feeling insecure or embarrassed?" Your average art lover may not be a PhD in art history, willing to face criticism for their opinions on an exhibition from art snobs, but they feel comfortable sharing their experience at the museum with their Instagram following. Social media is resetting the balance of influence and allowing those that felt unheard to speak up and reach a large audience. This aligns with the strides museums are making to be more inclusive and diverse in their outreach to visitors, employees, and communities alike. Instagram and other platforms do have value in the museum world when they support an institution's mission and vision. As it stands, social media is acting as a door for new people to find relevance within museums and allowing museums to meet the public where they are.
Reference Links
https://en.wikipedia.org/wiki/List_of_most_visited_museums
https://en.wikipedia.org/wiki/List_of_most_visited_art_museums
http://www.alva.org.uk/details.cfm?p=423
http://www.guggenheim-bilbao-corp.eus/wp-content/uploads/2011/06/Annual-Report-2016.pdf
https://news.artnet.com/art-world/most-instagrammed-museums-2016-768923
https://news.artnet.com/art-world/sree-sreenivasan-interview-668324
https://rework.withgoogle.com/blog/five-keys-to-a-successful-google-team/
---
InstaFame: Is It Relevant to Museums? was originally published in Museums and Digital Culture — Pratt Institute on Medium, where people are continuing the conversation by highlighting and responding to this story.