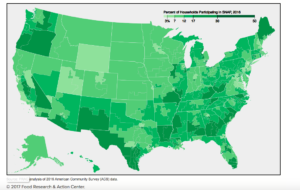 Farmers Market Directory: Where are the Organic Markets?
April 12, 2018 - All
Introduction:
Using the data from the Farmers Market Directory from data.gov I was able to visualize a part of the data that I had not found possible in my previous work. I wanted to focus on mapping specific types of farmers markets that are sought after in this trending world of eating and using fresh organic products. This is not only a trend but a way of life that is not easily supported in our society. I am looking to reinforce the need for individuals, families and communities that finding fresh food regularly that can work for them across the country.
Materials:
Farmers Market Directory data, data.gov

Carto
Methods:
I was inspired to create a map that would help maps depicting economics and demographics across the country to meet a need that is not addressed through large aggregate data. These two maps I have chosen to aid are shown here in Figure 1 & 2,  representing SNAP data on the side of those who are in need and the other showing areas where businesses support the use of SNAP.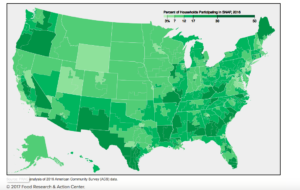 Fig. 1 Food Research and Action Center representing the % of households participating in SNAP in 2016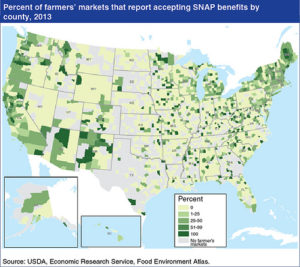 Fig. 2 USDA, % of Farmers Markets that accept SNAP in 2013
To support the SNAP data from the Food Research and Action Center and the USDA I used the Farmers Market Directory created by the Department of Agriculture provided by data.gov. With information and data the country as a whole I chose to distinguish what part of the data was going to be viewed through widgets. I needed my data to represent every farmers market by state. I chose to show farmers markets as organic and non organic through the representation of color. This type of data point representation was inspired by a map I found depicting farmers markets in the Seattle, Washington area.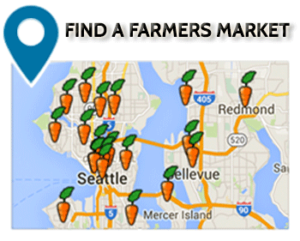 Fig 3. Washington Farmers Markets
The idea of having a map with point data could allow a user to find specific locations on the map that would relate to them and where they are from. To do this type of detail I used a HERE Day Transit Map in Carto so the map could be applied for local and national interest alike. I chose to included pop-up windows for interaction with one market at a time. The pop-up windows include information about the markets such as the name, city, website, if there was one in the data to begin with, and the goods sold. Another way the viewer can interact with the map is to choose one state a time, afew or the entire country with manipulation of the widgets at the right side of the map.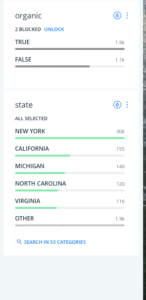 Fig 4. Carto map legend
Results & Discussion:
The results of the map in Carto shows the exact location of the farmers markets, distinguished by the type of goods, either organic and non organic. I chose to represent the difference as two different colors, green and orange as shown in the legend on the map. The colors I chose were strategically not to negative vs positive colors because I did not want one to be seen as worse than the other, any farmers market with fresh produce and goods is better than none at all.
There were results on the map that I would have liked to look differently. A few of the discrepancies could have been fixed in the original data but others were problems I ran into while using Carto. In terms of the representation and meaning of the colors on the legend versus the widget there is a discrepancy. The widget only allows for the choice of a single color while the layer has a choice of coloring by value. I chose by value on the layer so that the different values in the data can be seen separately. The wording could have been different as well, in terms of the market types organic or non organic are seen as true, false. This is not incorrect information but the use of these terms are harder to comprehend. I can say the same thing with regards to the information in the pop-up windows, which shows true, false and null in relation to the types of goods sold or not. The map as a result is not a final version of the data in what it can tell the viewer but it is at a great point to ask more questions and be able to relate in to other data as I have previously stated.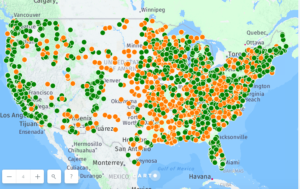 Fig 5. Organic and Non Organic Farmers Markets across the United States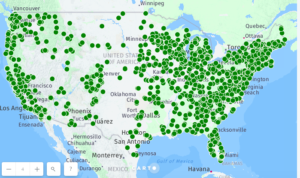 Fig 6. Organic Farmers Markets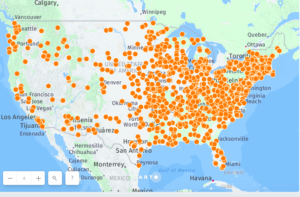 Fig 7. Non Organic Farmers Markets
Link: https://escaglia.carto.com/builder/3a00b6fa-ee8e-4e92-967d-fb6ea3249bd8/embed  
Future Direction:
In the future I would like to see this map go further in being able to provide information not only to a general user trying to find a farmers market near them but to local government officials and community leaders.
One way to get state or county officials involved, I think, would be to add a layer representing the demographics across the country by county. The demographic layer would show where farmers markets are and the type of communities they are located in. With this information there would be an opportunity to re-address where the farmers markets are located with in neighborhoods creating an open invitation to focus on neighborhoods that previously did not have access to a market either due to distance or poor access via local transportation.
Another opportunity for this map would be to create a layer of CDC data about health per county or per state to understand where an opportunity may be for people of a certain area to get fresh and possibly organic food.
Finally I would like to emphasize a direction that my map could go, in relation to the maps that inspired me (Figures 1 & 2). I would use both of these maps and data as a layer in Carto that address the topics of poverty and the use of SNAP across the country. Figure 2 already has focused on this through USDA data that, showed the percentage of farmers markets as gradient aggregate data. Now if this map (figure 2) was incorporated into my map we could see which farmers markets in a county generally accept SNAP. Is there one county that does this more than others and why? Are they in an area of high percentage SNAP users? as shown in Figure 1. Now take this a step further using the map and data from Figure 1 to layer the percentage of those in use of SNAP per state in relation to Figure 2 to understand where those families or individuals could potentially use SNAP at a farmers market. Finally adding Figure 5 as a layer of detail we can see a clearer picture where communities are being provided an opportunity at purchasing organic or just fresh goods at a local farmers market.
Resources
Food Research and Action Center. (2017). [Interactive Map showing the percentage of households participating in SNAP in 2016]. SNAP Households by Congressional District. Retrieved from http://www.frac.org/maps/snap-cd/snap-congress.html  
National Sustainable Agriculture Coalition. (February, 2014). USDA Releases Updated "Food Environment Atlas". Retrieved from http://sustainableagriculture.net/blog/usda-releases-ers-food-environment-atlas/
US Department of Agriculture: agricultural marketing service. (2018). Local Food Directories: National Farmers Market Directory. [data set] https://www.ams.usda.gov/local-food-directories/farmersmarkets
Washington State Farmers Market Association. (2018). Food Access at Farmers Markets. Retrieved from http://wafarmersmarkets.org/food-access-2/
The post Farmers Market Directory: Where are the Organic Markets? appeared first on Information Visualization.