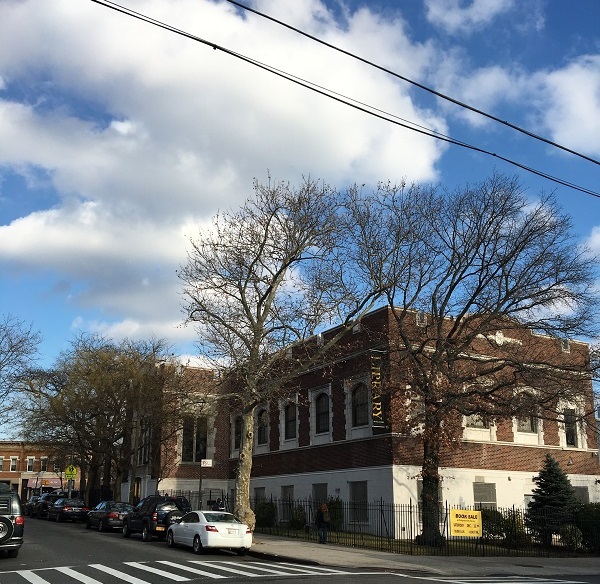 This week, I visited the Ridgewood Community Library, a branch of the Queens Library. Even though this is my neighborhood library, I had never spent time there except to pick up books I'd had transferred. The library is a fairly small branch housed in a beautiful brick building built in 1929. It was the first branch of the Queens Library to be constructed with funds from the city rather than from Andrew Carnegie. Renovated most recently in 2011, the library is fully accessible, with elevator access to every level. It is clean and well lit, with lots of natural light on the main level.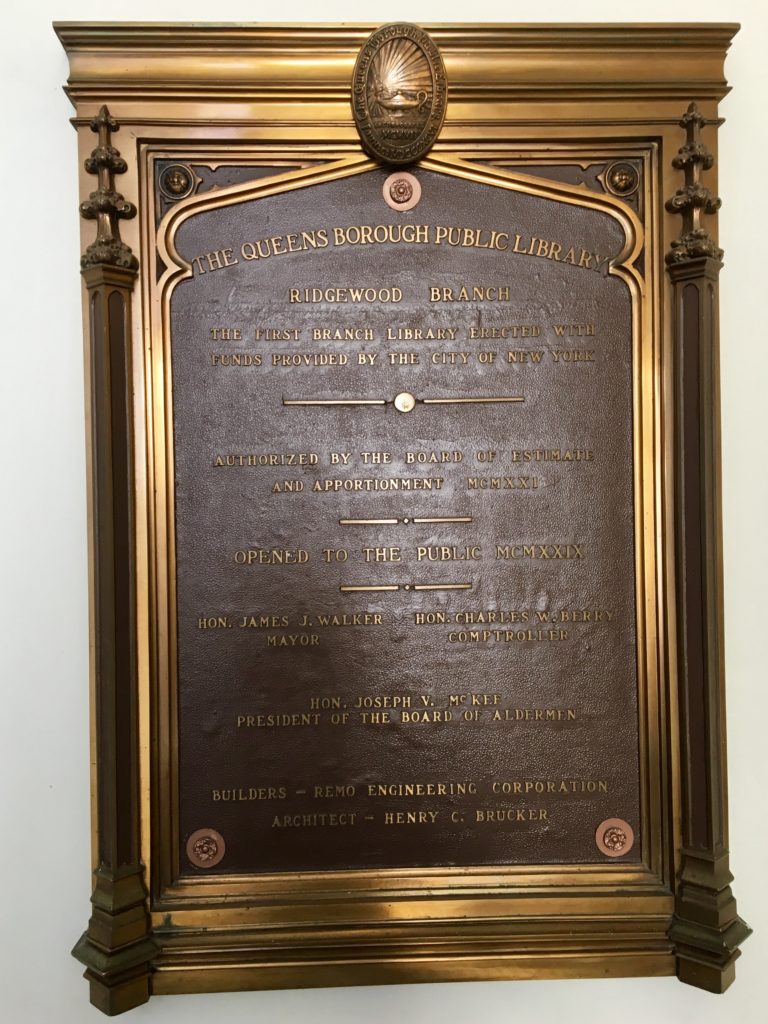 After entering the building at street level, I went downstairs to see the large meeting room for events, as well as a dedicated children's room, which houses all of the children's material. This room has its own circulation and reference desks, computers, and bathrooms.
The indoor book drop is located on this level just outside of the children's room. The outdoor book drop is located down a ramp next to the main entrance, which allows for 24-hour book return. Both book drops use a computerized system with a retractable metal flap that opens when materials are placed on a conveyor belt. This system usually works smoothly, but I have had issues such as the machine being out of order or not sensing books that I placed on the belt.
I next went up one level from the entrance to the large main floor of the library, which houses the teen and adult sections. At the circulation desk at the center of this room, as well as the one in the children's room, checking out books is fully automated, with a touchscreen monitor and a pad that senses library cards and books. This system is fairly straightforward to use, although in my experience, it's not always clear how to complete the checkout process, and I've seen other people having difficulties as well. I think that instructions for checking out could be relayed more clearly on-screen.
The reference desk on this floor is positioned by the back wall toward the middle of the room. At the reference desk, patrons can sign up for the 20 teen and adult computers located in a balcony area, which offer free internet access, Microsoft Word, and limited free printing. A desk near these computers provides technical support. There is only one single-occupant bathroom for the entire floor, although I do appreciate its being labeled with the inclusive term "all-gender."
This branch has different hours every day of the week, and is closed on Sundays. Ideally, it would have more consistent and longer hours to better serve patrons. I visited on a Tuesday, when it's only open from 1 p.m. to 6 p.m. I asked the librarian at the reference desk if this issue was budget-related, but he explained that Tuesday has always been a short day due to staff training in the morning. The reference librarian did mention austerity measures currently in place that affect how many new materials the branch can acquire. The library's programming, fortunately, is robust and seems to reflect the diverse population it serves. On its website, I saw a wide array of free programming, including kids' Jeopardy, English as a Second Language (ESOL) lessons, a class on dealing with stray and feral cats in the neighborhood, a Financing Your Education session, and Flamenco dancing.
This branch is also impressive for its collections in languages that reflect Ridgewood's immigrant population. In the adult section, there are designated shelves for languages including Albanian, Polish, Serbian, and Spanish. There is also a "New Americans" section geared toward immigrants, with videos, books, information pamphlets, and ESL materials. The literature near the circulation desk advertising library and community resources is printed in many languages. Having lived in Ridgewood for more than five years, I can attest to the large Eastern European and Spanish-speaking populations.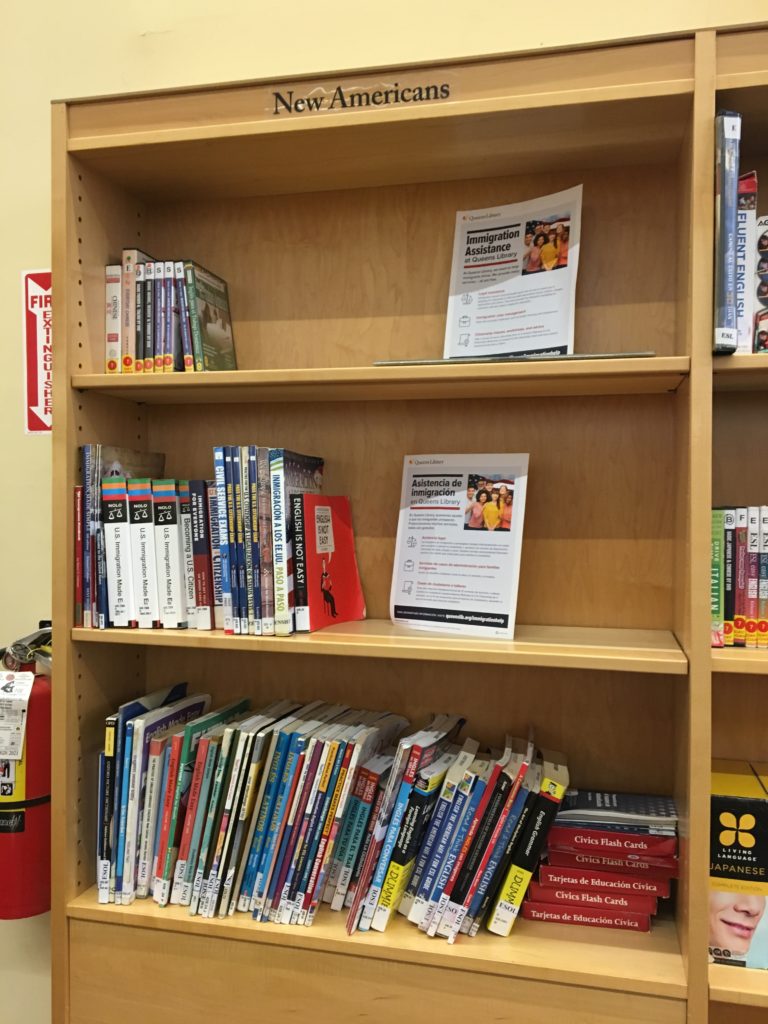 When I arrived at 1:30 p.m., the library was very quiet. Once school let out though, the teen section filled up and became loud and boisterous. Conversations reached the point of yelling, and because there weren't enough tables or chairs, some students sprawled out on the floor. Since the teen and adult sections share the main floor, this noise filled the entire area and made it difficult to focus or hear the reference librarian as he answered a question.
While I think it's great that teens are using the library, a more separate teen area like the younger children have would be ideal, as it would allow the rest of the library to remain a (reasonably) quiet environment. The reference librarian on the main level said that it can be a challenging place to work just because it does get so busy and loud. To me, these issues speak to the ever-present tension between providing access to everyone and ensuring that all groups of patrons have a good experience at the public library, all while dealing with space and budget constraints.
It seems like the best option for addressing the high volume of patrons at the Ridgewood branch would be to expand the building or move to a new location. Alternately, perhaps an additional neighborhood branch would help to address some of these issues. Of course, this is dependent on funding from the state and city governments as well as private sources. This blog post from YALSA (Young Adult Library Services Association) gives recommendations for dealing with noise and disruptions from teens after school when expanding isn't an option. Suggestions include rearranging shelving and furniture to create noise barriers, opening up meeting rooms for teen use after school, and scheduling programming and activities for teens during this time.
Overall, while the Ridgewood branch faces challenges, I do think it's doing a great job of targeting materials, programming, and resources to the needs and interests of the community it serves.