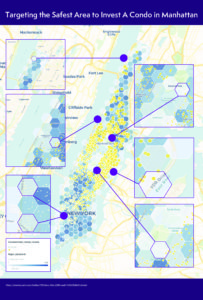 Targeting the Safest Area to Invest A Condo in Manhattan
August 1, 2018 - All
Introduction
In the contemporary age, websites and apps are the essential tools for everyone to communicate, to spread ideas, and develop businesses. Before design, a website or an app, analyze data is necessary for making decisions.
StreetEasy is a functional app for New Yorkers to find a forever home or rent a home. When people trying to use the APP to find a forever home in New York, it would be helpful if the app can provide some data visualization, to help the users to make decisions.
Resource
1,
DOF: Condominium Comparable Rental Income – Manhattan – FY 2011/2012
2,
Final Project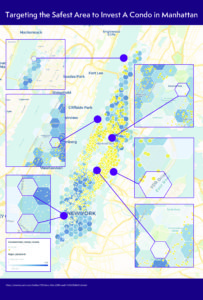 https://ememily.carto.com/builder/718536ce-b9e5-4280-aaa8-11c9a93b8e41/embed
These two resources both have Longitude and Latitude information, which can be traced together as one geometric map.
For the NYPD Complaint Map layer, I chose Hexbins to style the information, which can be easier to see each area's crime complain level; The darker the Hexbin is, the higher the complain level is.
For the rental income databases, I chose points as the style of visualizing the information. According to the value of each data, the points will display in different sizes. The more expensive the data is, the bigger the point will be. The larger the amount of a condo means that it is more valuable than others.
When putting the two layers together, the overlapped area that created by the Lightest Hexbins and multiple points, are the areas that the safest area to invest a condo in Manhattan.
Further Directions
Considering this case is about an APP, App relies on nowadays technologies, and in the future, the Augmented Technology, and 3D interactions will be a prospectively way to enhance the communications between data and users.
Visuals
https://yijiazhao.net/thesis/#/the-safest-area-to-invest-in-manhattan/
The post Targeting the Safest Area to Invest A Condo in Manhattan appeared first on Information Visualization.