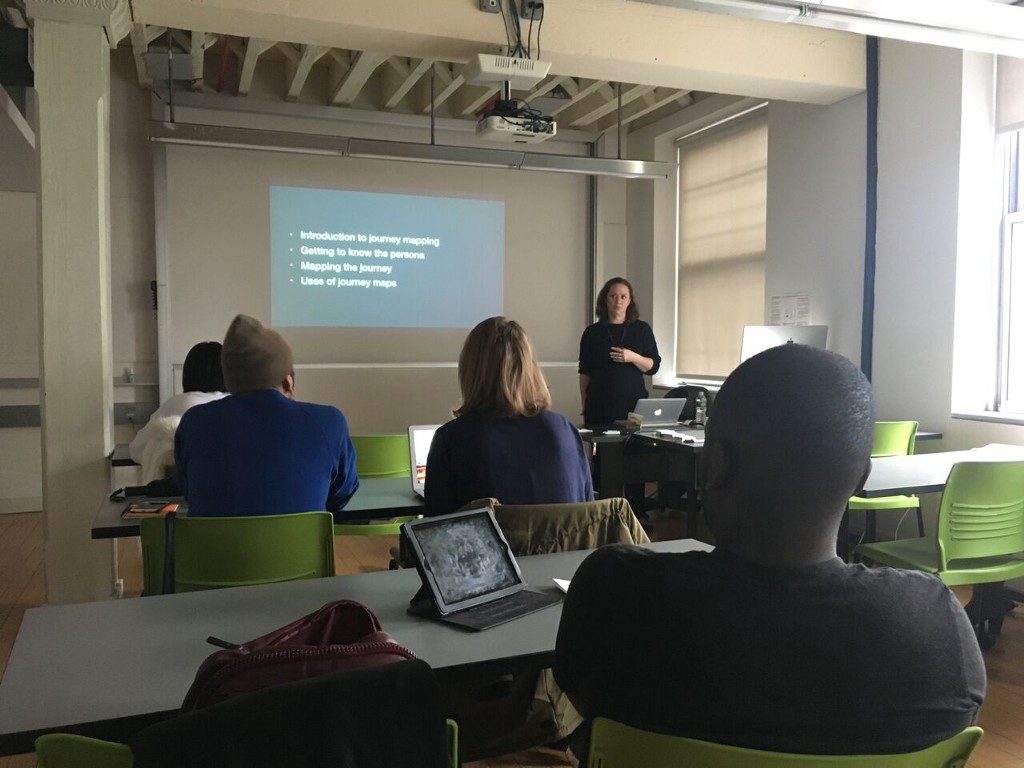 Visitor Journey Mapping In Museums
May 15, 2018 - All
Co-written by Megan Paqua and Sydney Stewart
The museum visitor experience is often difficult to visualize for every visitor from beginning to end. That is where visitor journey mapping comes in. A user journey map is the creation of a visualization of the steps a visitor might go through in engaging with the museum during the visit. It is based off of personas that represent specific "types" of visitors and shows what happens at each stage. By visualizing a type of experience, the visitors needs, actions, emotions and pain points can be better addressed.
This user-experience method was explored in a workshop at the Pratt Institute School of Information led by Allegra Burnette and was attended by students in the Museums & Digital Culture and Information Experience Design (IXD) programs. Burnette is an independent consultant who focuses on helping organizations create and implement user-centered digital programs and improve visitor experiences. Prior to consulting, she was a principal analyst at Forrester Research. Before joining Forrester in 2014, she was the Creative Director of Digital Media at the Museum of Modern Art, New York, where she oversaw design and production across all interpretive technology, including the museum's website, MoMA.org.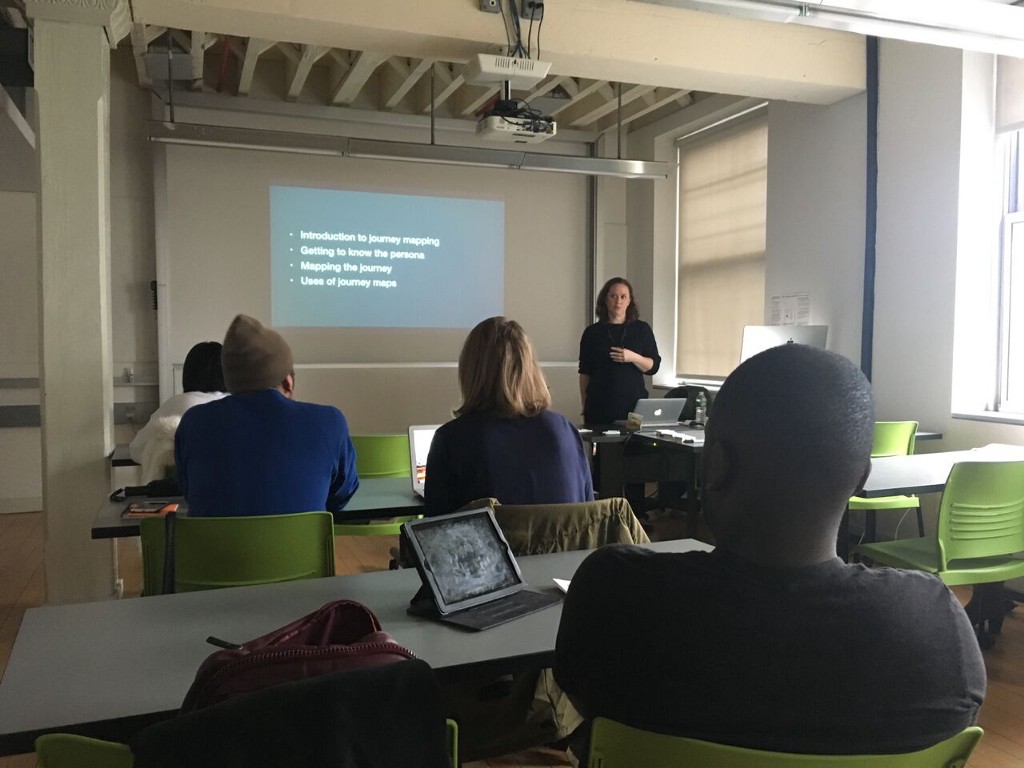 Journey maps, as described by Forrester Research, are "documents that visually illustrate customers' processes, needs, and perceptions throughout their relationships with an organization." As an experiential visualization of customer interaction, a journey map can serve a variety of purposes. A specifically-focused journey map might touch on the experiences, challenges, and questions entailed for a single persona in a single situation, providing an acute description of the customer's perspective. These customer journeys allow an institution to assess how their product is experienced through the lens of an individual with defined characteristics and desires. Conversely, a generalized "experience map" takes a situation in broader focus to catalogue observations and touchpoints which may be relevant to an array of customer experiences. These experience maps are often rendered in pictorial form to provide a visual reference of key points in the customer experience.
A key element of journey mapping is the persona, which Burnette describes as "a lifelike depiction of an archetypical customer that includes attitudes, behaviors, context, pain points, and opportunities." Personas help put a specific "face" to a customer archetype, which can offer clarity in assessing how the product meets, or fails to meet, that individual customer's needs. For a museum, this exercise can be effective in creating experiences for distinct audiences: discussing an experience from multiple perspectives helps to define the core elements and goals of an exhibition or project and "stress-test" how well these ideas are communicated to the user.
Personas can vary in terms of detail, but generally break down into a few separate elements. Firstly, identification information — a name, occupation, age, and/or geographic location. Secondly, an attitudinal statement to denote the persona's key perspective — this might be "Time is money: I'm always on the go!" or "I can't say no to a good bargain. Finally, more-detailed personas can contain background information, which might entail details about the persona's values, experiences, preferences, and aversions. For example, "Likes to collaborate to solve problems", "Can't stand when people are late", "Grew up on a farm", or "Never has as much leisure time as he wants". Each piece of information fleshes out the persona and provides more realistic parameters for considering the customer experience.
A visitor journey map can be organized in several "zones" which serve to delineate the different segments of the assessment. In the first zone, called "The Lens" in a template from the Nielson Norman Group, the map could include the "who" and "what" — that is, the persona and the scenario in question. The second zone, "The Experience", contains the bulk of the data, describing the phases of the journey, the actions the persona undertakes, and the thoughts and emotions the persona experiences throughout the journey. Finally, the third zone, "The Insights", focuses on the key takeaways of the exercise: opportunities to explore going forward.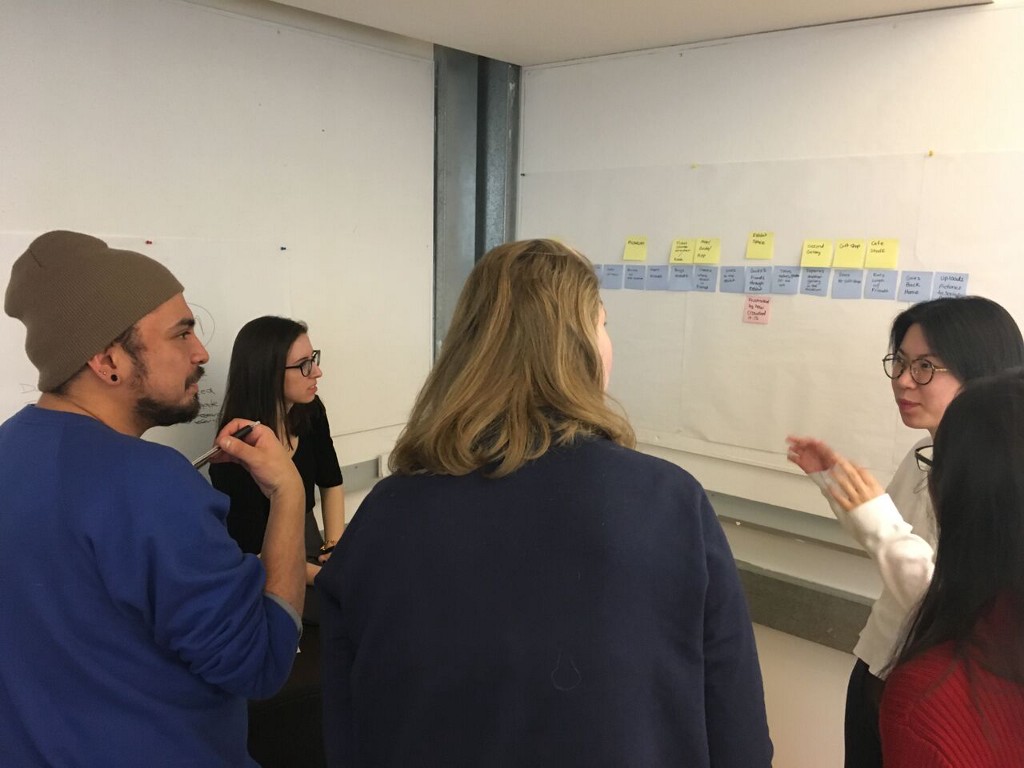 The exercise of mapping begins with the core experience — the actions the persona takes from a specific starting point to a specific endpoint. "Touch points" comprise the places where the actions are completed — this could be a ticket desk, a particular display, or a bathroom. The map then contextualizes the actions with emotions: "Confused: no building map available". From the emotional notes, the user can divide the journey into different stages based on emotional highs and lows, which are recorded in line graph form. Finally, the user identifies and adds the moments that matter — events and occurrences that meaningfully shaped the experience, for better or worse.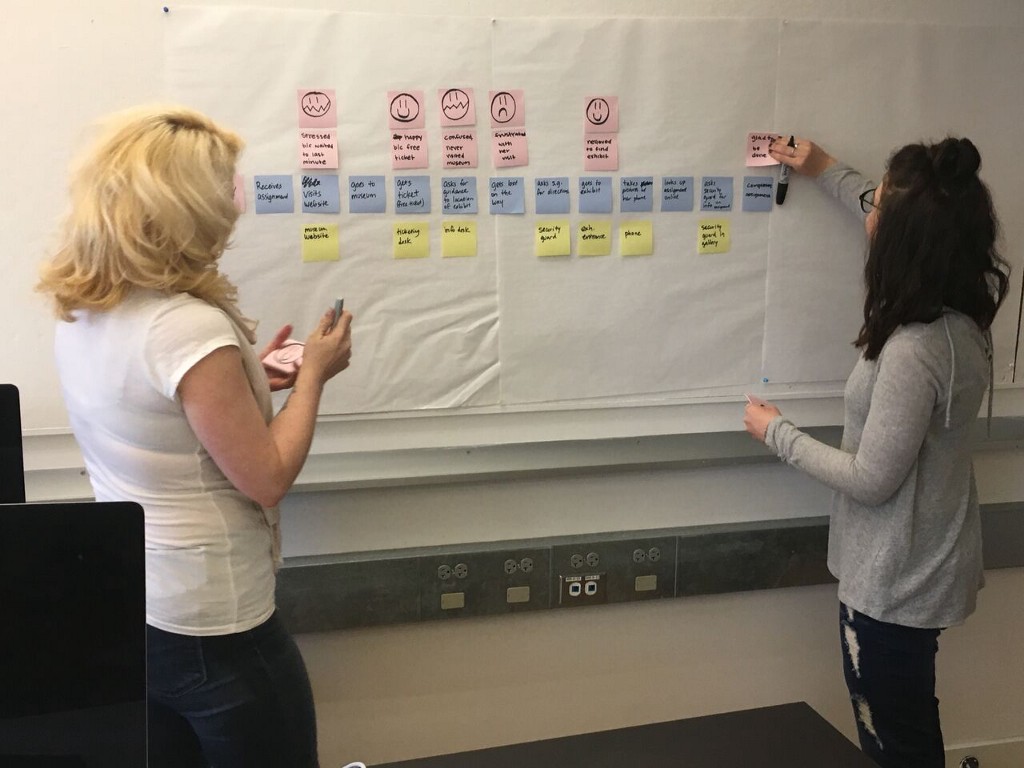 The most useful aspect of Journey mapping is that it takes form from the perspective of various visitor personas. Museum employees often times view their wok and their museum differently than the average visitor because of how close they are to the institution. This can lead to decisions that do not always lend to a cohesive visitor experience. Journey mapping helps bring the visitor back into focus. It draws attention to the problem areas and highlights areas of success from the front- facing visitor side in museums all the way to the behind the scenes processes, all of which contribute to the visitors complete experience.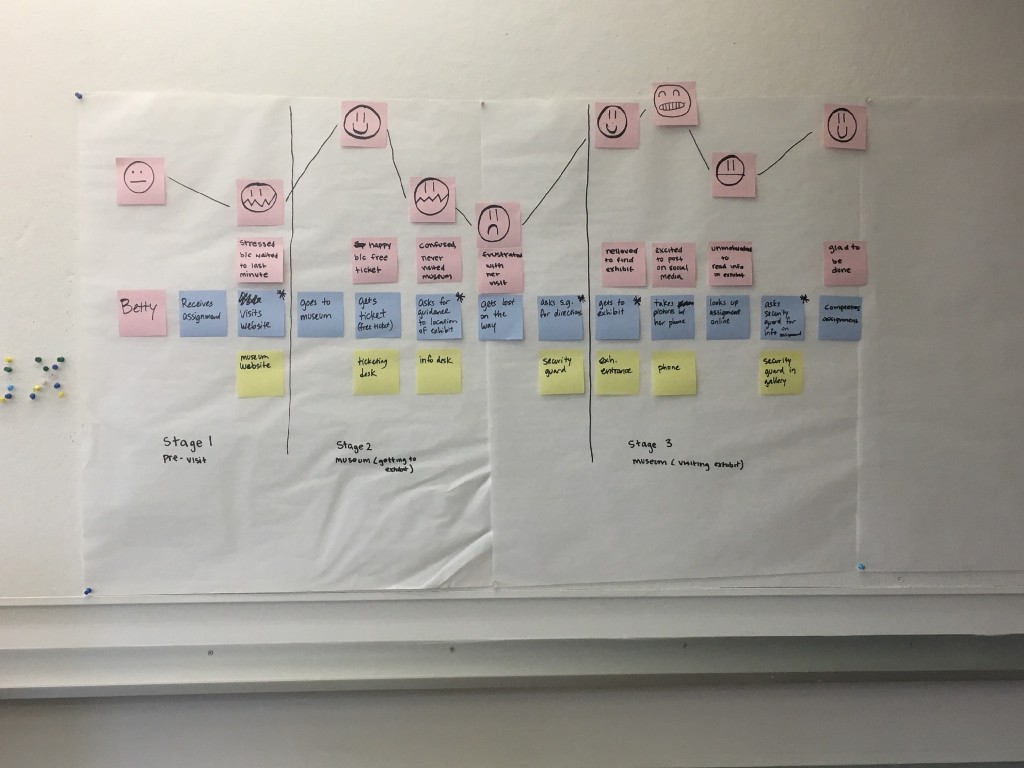 At first glance, it might seem odd to compare a museum to a product and view a visitor as a customer. However, there are significant benefits to taking viewing a visit to a museum in this framework. Journey mapping is a concept that is successful across all areas of work, especially where a type of service is being provided to various individuals and groups of people Museums are, in essence, providing a service to their visitors, whether that be educational, or entertainment or something in between and therefore, can benefit from this type of root-cause analysis. Additionally, journey mapping is a highly efficient, low cost method that can work for any museums, from small to large and natural history to fine art. It is a generalized method that shows individualized results.
Lastly, this workshop and type of user evaluation method are applicable to fields beyond museums. The example used throughout the workshop was of a journey map of a banking experience. Journey mapping is applicable in any area where a user is interacting with something else created by the company. The most applicable aspect of this evaluation method is that a full journey map also draws attention to how visiting a physical space might not be the first interaction with the institution. Touchpoints do not only exist in the physical environment and it is just as important to consider how users are interacting with the institution in the digital realm. Journey mapping is especially useful in this instance because it pieces together the virtual with the physical interactions. For a museum, this is especially important. Digital expectations of the visitor do not leave when they walk through museum doors. Using journey mapping to address areas of weakness across all these various touch points, especially digital, will create overall better visitor experiences.
Further Reading:
Kaplan, K. (2016, July 31) When and How to Create Customer Journey Maps. Retrieved from https://www.nngroup.com/articles/customer-journey-mapping/
Burnette, A., Mann, L., and Grohe, M. (2017). MCNPro: User journey mapping . Retrieved from https://www.youtube.com/watch?v=l1NnK2CzHoI
---
Visitor Journey Mapping In Museums was originally published in Museums and Digital Culture - Pratt Institute on Medium, where people are continuing the conversation by highlighting and responding to this story.