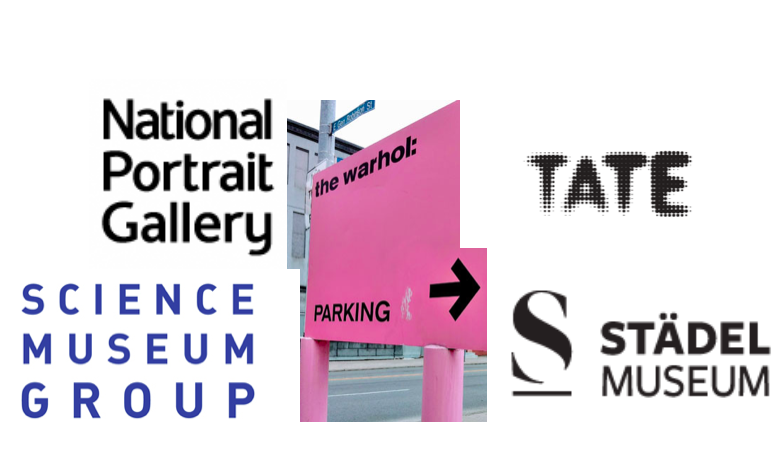 Review of Different Museum Digital Strategies
November 19, 2018 - All
The future of the museum may be rooted in the buildings they occupy but it will address audiences across the world — a place where people across the world will have a conversation. Those institutions which take up this notion fastest and furthest will be the ones which have the authority in the future
— Sir Nicholas Serota
I believe what Sir Nicholas described would be the ideal of a museum in the digital age. But how can digital and emerging media help a cultural institution successfully meet its mission? Where does a museum begin on its path toward becoming truly optimized for the evolving digital landscape? I've looked into three museums digital strategies, which are the digital strategies of Tate(2013–15), the Andy Warhol Museum(2015–17), the Science Museum Group(2015–17), the National Portrait Gallery(2016–2020) and the Städel Museum. These five museums are all ahead in the digital game in their own realm, so by looking into their digital strategies I'm hoping to get some insights about the trends in the museum-getting-digital field.
First of all, a brief Wikipedia introduction of the museums that will be discussed…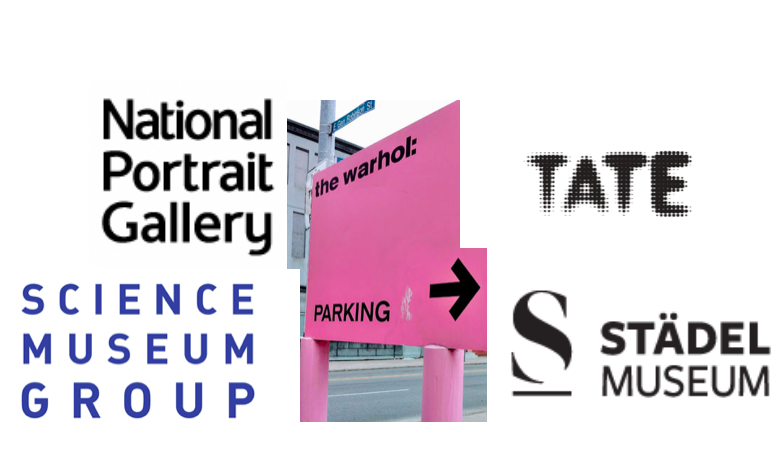 Tate is an institution that houses, in a network of four art museums, the United Kingdom's national collection of British art, and international modern and contemporary art. It is not a government institution, but its main sponsor is the UK Department for Digital, Culture, Media and Sport.
The Andy Warhol Museum is located on the North Shore of Pittsburgh, Pennsylvania, in the United States. It is the largest museum in North America dedicated to a single artist. The museum holds an extensive permanent collection of art and archives from the Pittsburgh-born pop art icon Andy Warhol.
The Science Museum Group is a collection of British museums, comprising: The Science Museum in South Kensington, London, the Science and Industry Museum in Manchester, the National Railway Museum in York, the National Railway Museum Shildon in County Durham, the National Science and Media Museum (formerly the National Museum of Photography, Film and Television) in Bradford, and the Science Museum at Wroughton in Swindon, Wiltshire.
The National Portrait Gallery is an art gallery in London housing a collection of portraits of historically important and famous British people. It was the first portrait gallery in the world when it opened in 1856.
Städel Museum, officially the Städelsches Kunstinstitut und Städtische Galerie, is an art museum in Frankfurt, with one of the most important collections in Germany. The Städel Museum owns 2,700 paintings and a collection of 100,000 drawings and prints as well as 600 sculptures.
These museums are trying to be…
• More accessible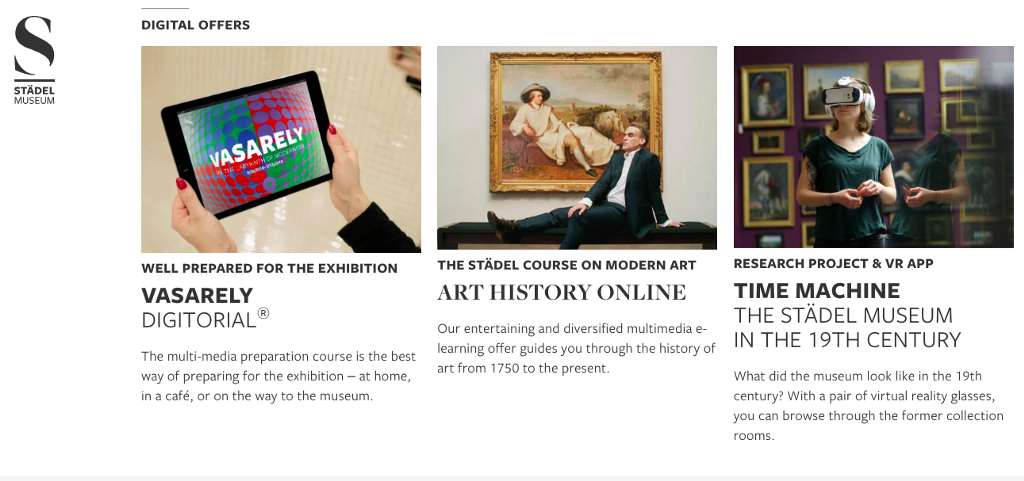 They're trying to provide audience with a more open access to the collection and images. In their digital strategies, Tate mentioned enriching their own online collections with projects like Art & Artists, Transforming Tate Britain as well as Archives and Access project. National Portrait Gallery talked about extending the range and ways of viewing digital images of their collections and addressed the importance of open and sharable in terms of software and data standards. Also, the Städel Museum referred to a list of their on-going digital projects and how they should keep developing and optimizing them. A very intriguing one is their digitorials. It is a multimedia preparation for / follow-up on selected special exhibitions that audience can read before, during or after they go to the exhibits.
Another approach of being more accessible is making the museum website more accessible. As suggested in the report, National Portrait Gallery would prioritize investment in redesign of its main website and aim to make this their core delivery system for all online content. Meanwhile, it would make better use of social media embedded into the main website and use it to give the site more currency. Besides, the report raised the topic of creating seamless user experience across different systems, which I think would be very helpful for the accessibility.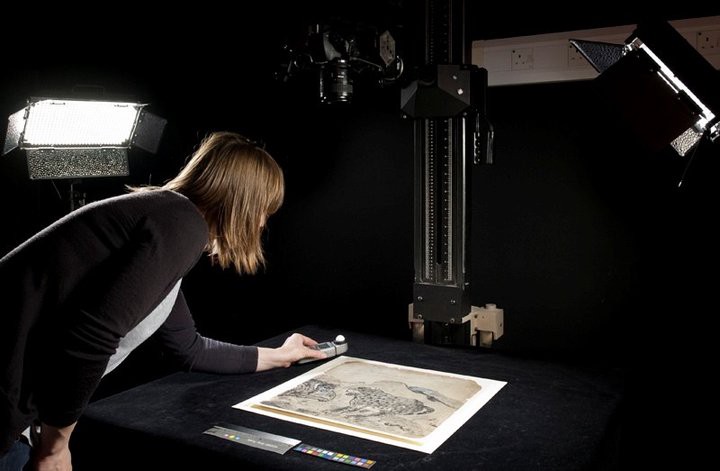 Making the museum staffs/curators more accessible has also been trending. The Warhol Museum's report introduced a communication strategy highlighting behind-the-scenes activity, as well as an open call for digital users to provide feedback and information about objects in the museum's collection. Tate mentioned about seeking greater curatorial engagement with the online art and archive collection to provide more open and shareable content for its online users.
• More engaging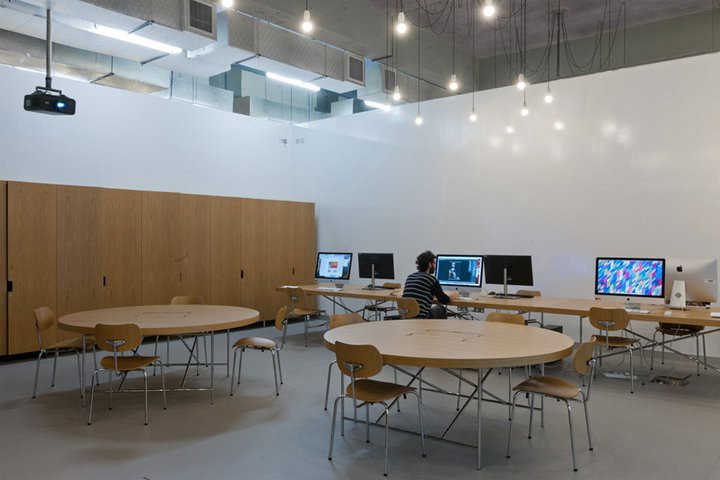 I guess if there were one thing that every museum is trying to do, with or without a digital strategy is to engage audience with on-site digital experience. In these reports, Tate brought up their Digital learning studios, and how artist sketchbooks and scrapbooks from Tate Archive would be made accessible though touch screens at Tate Britain. Similarly, the Science Museum Group talked about having the Digital Lab, where a set of activities that would build capability, explore the full potential of digital and establish the digital reputation of the Group. Also, the Group's strategy mentioned establishing an online crowdsourcing initiative to allow the public to share their expertise around the collection.
• More revenue/funding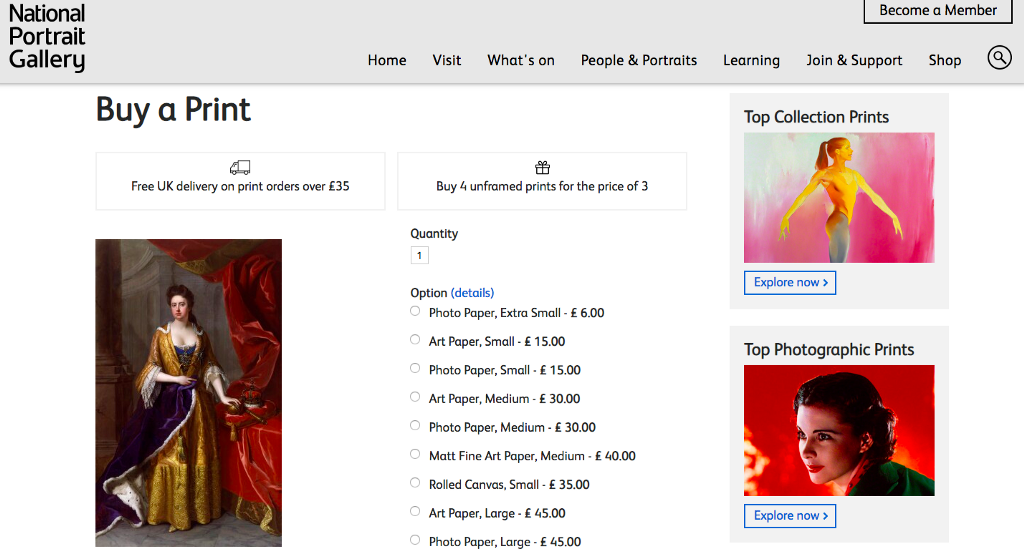 Using various digital methods to generate more revenue and funding is no doubt another trend based on the reports. Each of them has their unique strategies which are all very interesting. The Warhol Museum suggested better UX design to make online funding easier for individual and cooperative donors. Additionally, they would try to evolve from a digital project-based funding model to a digital operating-based funding model. This would allows digital staff to be opportunistic with initiatives, in addition to making iteration and rapid development key elements to the museum's digital activities. Tate's document focused more on their digital products, i.e., online courses, apps, ebooks, paid onsite multimedia tour etc. They would also introduce self-serving ticketing to create an easier visiting experience for audience. Similarly, the National Portrait Gallery report also talked about encouraging general and specific online donations, providing simple registration/payment processes for public art competitions, effective booking and ticketing for exhibitions and events. They also mentioned about offering simple print-on-demand services both onsite and online, which is already available.
Museum's future — Digital transformation
When digital is not just about one department but all departments are involved, and every staff is prepared with a digital mindset as well as the skill set, a museum would have completed its digital transformation, which I think would be the future of museums in this digital age. Just as it mentioned in the National Portrait Gallery document, "it is expected that 'digital' will become an intrinsic part of what the Gallery doe and that this thinking will be interwoven into the overall strategy for the organization". The Gallery would implement a culture change terms of how digital is perceived and where responsibility for digital content development sits within the organization. It would devolve responsibility for creating digital content across the organization, while putting a range of clear Digital Content Guidelines in place.
In Tate's digital Strategy, the management of customer records from different departments was addressed. Customer records at Tate existed within multiple, unconnected systems (ticketing, bulk email, online shop, fundraising etc.), so they were thinking a large scale project on that subject. I personally think this process would be necessary for every large museum around world in the near future too. It'd be very helpful and much easier for customer analysis, targeting and marketing.
According to the Städel Museum's digital strategy, the museum has already adapted its internal structure and working mode to the digital era. They've tried to implement digital knowledge in as many areas and departments as possible to ensure that their digital and analogue contents are integrated and closely interlinked in a unified approach.
Conclusion
Being more accessible, engaging, enriching content and generating revenue are clearly what museums are focusing on based on their digital strategies, and fortunately there are so many possibilities available in those fields thanks to the digital innovations. I am very optimistic about what digital could bring to museums and looking forward to see the process of how museums would become more digital step by step.
Reports Cited:
The Warhol Museum Digital Strategy 2015–2017 https://github.com/thewarholmuseum/digital-strategy
John Stack, "Tate Online Strategy 2010–2012", Tate Papers, no. 12 (2010) http://www.tate.org.uk/research/publications/tate-papers/13/tate-online-strategy-2010-12
Staedel Museum — Digital Strategy http://www.staedelmuseum.de/en/stadel-museums-digital-strategy
Science Museum — Digital Strategy 2015–2017 https://group.sciencemuseum.org.uk/policies-and-reports/digital-strategy/
National Portrait Gallery — Digital Strategy 2016 http://www.npg.org.uk/assets/files/pdf/strategic-plan/NPG_Digital_Strategy_Digest_v4_0.pdf
---
Review of Different Museum Digital Strategies was originally published in Museums and Digital Culture – Pratt Institute on Medium, where people are continuing the conversation by highlighting and responding to this story.