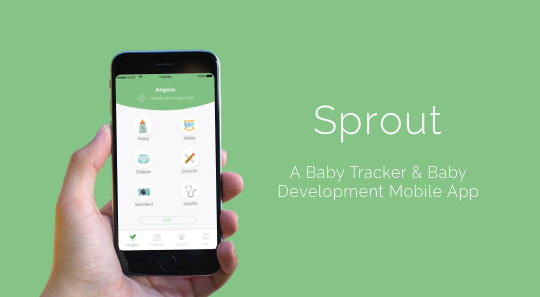 Sprout: A Utility Mobile Application to Help New Mothers Track Babies' Activity and Growth
January 11, 2018 - All
Designed by: Monica Gao, Yangyang Long, Xi Zhang
Time window: February 2017 – May 2017
Sprout is a mobile app designed for new mothers to track babies' daily routine activities and document their growth and development. We went through a complete design process to create the final mockup, including user research, data synthesizing, user journey mapping, ideation, sketches, and iterative prototyping.
Sprout is a mobile app designed for new mothers to keep track of their babies' daily routine activities and document their physical growth and cognitive development. New mothers' life schedules are usually changed after they give birth to their babies. This app serves as a timer and reminder for new mothers who need to feed the baby, change the diapers, and note the baby's sleeping schedules around every three hours. On the other hand, parents love to document their babies' growth in many ways, for example, taking photos and videos or writing diaries. With Sprout, parents can create an entry and import media to note down anything important or interesting that happened to the baby or the family. These entries would become great memories for the family to review in the future. The three designers on the Sprout team worked from February to May and finished a complete design process on developing two features for this app. They started off conducting user research, synthesizing research data, having ideations and brainstorming sessions, creating sketches, wireframes, and prototypes, and went through three rounds of user testing to finalize the prototype. By continuing to develop the other features of Sprout, they hope that new mothers' life would become easier, and taking care of newborn babies could become a pleasant and memorable experience for the mothers.
Author information
The post Sprout: A Utility Mobile Application to Help New Mothers Track Babies' Activity and Growth appeared first on #infoshow.