A little known (to me) conference offers inspiration and innovation in a beautiful setting.
November 13, 2017 - All

In September of this year, I was part of a special gathering. Unbeknownst to me, this gathering has been taking place for the past 15 years in a special corner of the world, the beautiful and enchanting town of Dubrovnik, Croatia. Nestled in the hills of the Dalmatian coast, this town of sparkling white stone and tile roofs annually hosts the Best in Heritage conference, organized in partnership with Europa Nostra with the support of Creative Europe and ICOM Endowment Fund. While the location certainly contributes to the special nature of this gathering, it was the people and the content of the conference itself that really made it special.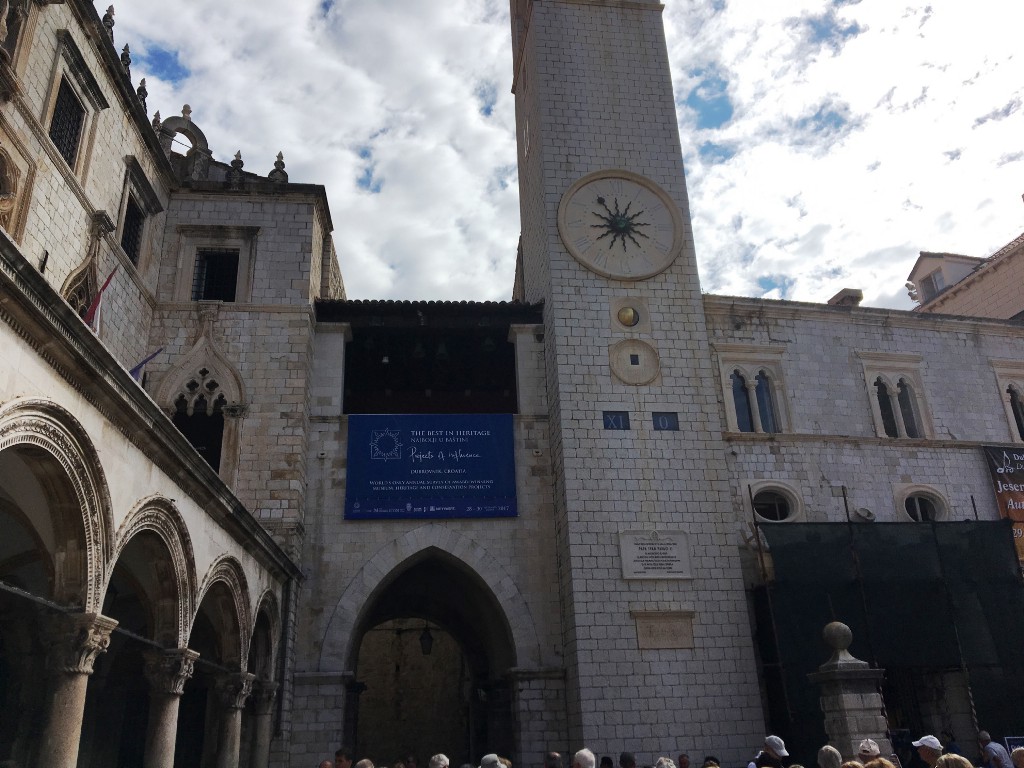 Best in Heritage invites representatives of award-winning projects in the cultural and heritage sector to come together, share their projects, and "compete" (which I put in quotes because it's more congenial than competitive, but there is a voting process) for Best in Heritage and Project of Influence awards. The organizers follow 50 different award schemes around the world, which annually nets about 300 winners. From this group, they select an invitation list which they feel represents the trends in the field and will make for an inspiring and interesting conference. And they do an excellent job.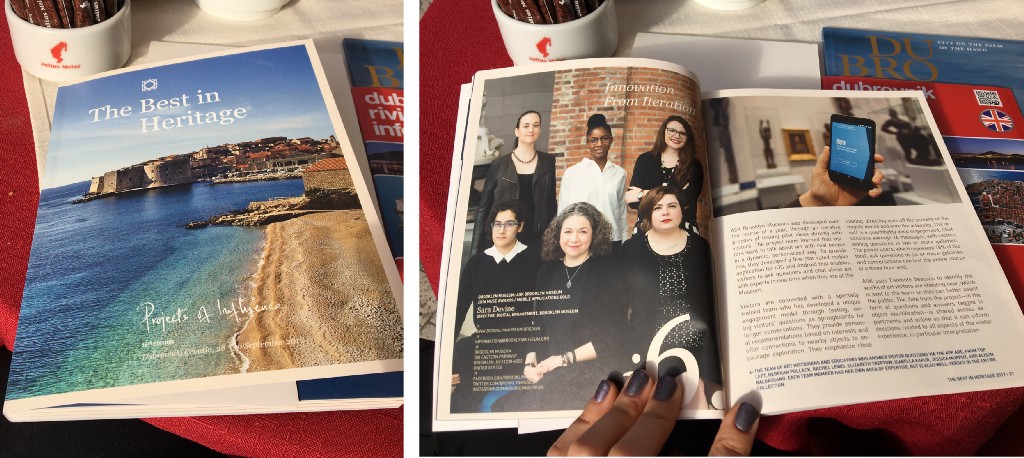 I attended on behalf of ASK Brooklyn Museum, our 2016 MUSE award-winning project, and found myself among some of the best and brightest in the sector. This was a chance for me (who is admittedly U.S. and UK-centric in terms of keeping tabs on the museum field) to hear about projects not only from mainland Europe, but South America, Asia, Australia, and New Zealand. The range of projects represented were quite broad — from site conservation to a smart museum — but a few trends did emerge, which I offer below.
Thoughtful and intelligent use of technology. Not every project focused on technology, though most had some technological element. Afterall, it's impossible today not to use technology even if only in a supporting role. However, most projects with a tech- or digital-heavy presence used it thoughtfully and intelligently, by which I mean that technology was the best solution for the task as hand. I saw very little of what I call "shiny tech," or technology for technology's sake. A few examples:
Virtual Architecture Museum: Developed by Vizerra and focusing on lost or never completed Russian architecture, the Virtual Architecture Museum project allows you to explore an interactive, 3D environment with a "professional guide" who explains, in five different languages, the history of the monument and circumstances surrounding its loss. Through this platform, you can tour monuments and buildings that either no longer exist or never did and get information while you do it.
Royal College of Surgeons of Edinburgh: A complete overhaul of the museum in 2014‒15 allowed staff to modernize interpretation, expand collection display, create new education spaces, and provide access to the historic buildings via new lifts. The theme of "know your body," which guides the museum's messaging, led to the creation of a replica 18th century surgery theater where a costumed actor narrates the dissection of a digital cadaver. Elsewhere in the galleries, visitors can explore the human body via touchscreens, among other digital interactives.
AnnoTate: Designed and developed by Tate and Zooniverse, AnnoTate is an online platform where transcribers from all over the world can help decipher recently digitized archival material from the Tate Archive of British Art. The platform allows the over 20,000 volunteers to submit their transcription and participate in an online forum with other community members. Staff have access to a quality control tool in order to check the transcriptions and accept, amend, or reject them before eventually publishing final versions online.
Connecting people and building community. Many of the projects represented this year focused on the human element, connecting people and building community. This could be with or without a technology presence. My project for example, ASK Brooklyn Museum, leverages tech in order to connect people. ASK is a chat app that connects you with a team of art historians and educators who will answer your questions in real time during your visit to the Museum. A few other examples of projects with that human element:
Granaries of Memory: Over 1,000 interviews are housed in an online oral history archive created by the University of Gastronomic Sciences in 2012. Particular attention is paid to food culture, though the focus is to capture intangible cultural heritage before it disappears by "preserving the experiences and worldviews of local communities."
Limburg 1914–1918: Small Stories from a Great War: A multifaceted WWI memorial campaign organized by the Limburg government, "Small Stories…" included a story told via Facebook, a short movie, a video exhibition, and a participatory art project. The art project included 44 "Stahlhelmets," which symbolized the German occupation of the 44 local municipalities. One helmet was sent to each municipality and the community was invited to decorate the helmet based on the theme "never forget what war can lead to." The helmets were then installed together in Limburg as part of a larger exhibition.
Oita Prefecture Art Museum: A new museum located in Oita, Japan, the mission of OPAM is to be a "place where there is a presentation of new values and where there is stimulating art and culture among citizens." The museum relies on collaboration and partnerships with citizen and community groups "in order to grapple with and solve many social and economic problems, and promote the revitalization of the region's economy and society." The open design of the building invites the community in to enjoy the museum as a gathering place.
Museums are not neutral. Reflecting on the conversation going around the Twitterverse lately, I couldn't help but notice the number of projects presented that are embracing the role museums (and their employees) can play as activists and change agents. A few examples:
Den Gamle By: The world's first open air museum (opened in 1914), Den Gamle By entered the new millennium with a goal of becoming more relevant and inclusive. This included the creation of a modern town district that opened in 2013 and relied on co-creation with the people who had previously lived and worked in the homes. Themes explored in the modern district include smoking and family planning in the 1970s structures and a temporary installation of a contemporary Somali-Danish home where members of the community welcomed visitor and encouraged discussion of immigration. The House of Memory, set in a 1970s style flat, helps elderly visitors with dementia relive memories and communicate with their companions. Hands-on activities and role-playing help younger visitors with ADHD and other learning disorders.
"I am the Museum" campaign: In 2012, the National Museum of Bosnia and Herzegovina closed its doors. Bosnia and Herzegovina does not have a ministry for culture on a state level, and eventually the museum, which houses one of the largest and most important collections in the Balkans, was left without a governing body or funding source. Public outcry did not lead to a solution. In 2015, a team from the independent NGO AKCIJA "discovered a story of the workers who have been coming to work for years and organized guard shifts in order to protect the Museum and its collections." AKCIJA began documenting this story in photo portraits and launched a media campaign called "I am the Museum ("Ja sam Muzej")". The campaign, which included an exhibition of the photographs, invited the public to support the workers in guarding the museum and over 45 days, more than 5,000 people across the country and surrounding region came to take a shift, many of which were documented on YouTube. This campaign, combined with political and diplomatic efforts, led to the re-opening of the Museum in 2015 with guaranteed funding until 2018.
Canadian Museum for Human Rights: This Museum embodies the very idea that museums are not neutral. Opened in 2014, the museum's mission is to "explore the subject of human rights…in order to enhance the public's understanding of human rights, to promote respect for others, and to encourage reflection and dialogue." The experience- and human-centered building design and focus on transmedial and inclusive storytelling techniques means the museum is welcoming to all.
Conservation was also a really big theme in the conference and there were multiple projects that focused on conserving archives or historic sites. There were 42 projects presented over the course of the two-day conference, so you can see I've only touched on a few here. Each project was deserving of their respective awards, and I was floored by the innovation, passion, and dedication that exists in the culture and heritage sector and represented by these projects. It was inspiring and energizing to be among such cool people doing amazing things. Check out the presentations and the list of projects from this year and previous years on the Best in Heritage website.
---
A little known (to me) conference offers inspiration and innovation in a beautiful setting. was originally published in Museums and Digital Culture — Pratt Institute on Medium, where people are continuing the conversation by highlighting and responding to this story.